More and more beauty enthusiasts have been led to achieving "green", "clean" and "toxin-free" labeled products. Natural and organic skincare harnesses potent botanicals without agricultural chemicals lurking in your routine. However, if you get chemical products stacked up in your wardrobe, it may cost you a fortune to cut them loose and start over with the organic term, certified by the USDA.
To get the best of both worlds, how about taking the sophistication of natural skincare with homemade remedies? Your skin and your soul both feel great. We can try an arsenal of natural ingredients to practice our coveted face masks, such as avocado, clay, honey, essential oils, olive oil, yogurt or oats. They seem pretty much orthodox. Let's add something exotic to the list. Shall we spend some time on my bitter gourd face mask recipes for sensitive, oily, acne-prone, dry and aging skin types?
The Skincare Benefits of Bitter Gourd
First off, let's have a quick look at what's so amazing about this wild cucumber. Some of us may be disgusted with its sharp flavor, owing to its phytonutrients. On the plus side, the vegetable fruit offers tons of benefits, enhancing the quality of life. We are going to boil them down to how it works wonders for our skin though.
Bitter gourd, also called bitter melon, bitter squash or Momordica charantia, is a tropical and subtropical vine that belongs to the family of Cucurbitaceae. Commonly found in Asia, East Africa, South America and the Caribbean. It has long been utilized for culinary and medicinal purposes.
According to a 2013 article published in the PubMed Journal of the National Center for Biotechnology Information (NCBI), bitter gourd is chock-full of vitamin A, vitamin C, B vitamins, potassium, calcium, zinc, magnesium, phosphorus, iron and dietary fiber. Not to mention, enriched with phenols, flavonoids, isoflavones, terpenes, Anthraquinones and Glucosinolates (Source). Its high concentrations of vitamins, minerals and phytochemicals boast antioxidant properties to replenish the skin's protective barrier, reverse sun damage and fight against oxidative stress associated with aging. The significant amount of Vitamin C in bitter gourd helps brighten skin tone and neutralize discoloration for a clear, vibrant-looking complexion.
On top of that, the natural bioactive compounds in bitter gourd exhibit antimicrobial, antifungal, anti-inflammatory and anti-infective activities. It tends to mitigate bacteria-induced inflammation of the skin. In fact, a University of Bologna study from 2019 demonstrates the topical application of bitter gourd to treat various skin diseases and infections like itching, insect bites, wounds, rashes and burns. Therefore, it can help detoxify skin, improve acne lesions and calm irritation. (Source)
Welcome to my pre-bedtime bitter gourd face masks you can enjoy at home. Make sure to choose high-quality ingredients. If possible, they are USDA-certified organic. Select bitter gourds that are small, fresh, firm, mold-free with bright green. Wash the fruit thoroughly and cut it in half. Get rid of its two ends, seeds and pith. Cut the flesh into slices and put them into a blender to make a paste.
A word of caution: After merging all of the ingredients together, it's necessary to do a patch test by checking a small amount of the face mask on the most sensitive area of your face. For me, my cheeks are likely to get itchy and reddened. Within 5 minutes, if there is no allergic reaction, you can apply it all over your face.
1. Bitter Gourd Face Mask Recipe for Oily and Blemish-prone Skin
Ingredients
½ bitter melon
2 tablespoons of jojoba oil
2 drops of tea tree essential oil
1 drop of lavender essential oil
How It Works
Bitter gourd is admittedly the go-to for acne-prone skin with its antimicrobial, anti-infective and detoxifying effects, easing up on blistering blemishes.
Comparably, Tea tree oil and lavender oil are loaded with antibacterial, antiviral and anti-inflammatory properties. When it comes to skincare, these two essential oils hit the mark as excellent acne-fighters by suppressing some types of acne-causing bacteria like Propionibacterium acnes and relieving inflammation. Also, lavender oil is able to provide soothing and curative abilities. Despite being all-natural, essential oils may take their toll on your skin. They could lead to acute problems such as burning, hyperpigmentation or drying. Otherwise, bitter gourd is considered a non-irritating ingredient.
Then, the essential oils must be used in diluted form. My ideal carrier oil is jojoba oil, which is very gentle and suited for all skin types. Its small molecules facilitate the absorption through the skin of essential oils and other active components. More importantly, jojoba oil is cut out for oily skin. Its structure can mimic the action of sebum and hence, regulate overactive sebaceous glands while keeping skin hydrated. It's an ideal moisturizer for oily and acne-prone skin.
Blend the paste of bitter melon with jojoba oil, tea tree oil and lavender oil. Spread the mixture evenly all over your face and let it sit for 10 to 15 minutes. Then, wash it off with lukewarm water. Pat skin dry with a towel. Apply a toner and next, a thin layer of lightweight, water-gel-based moisturizer. Do the mask twice a week. Last but not least, wearing sunscreen every morning is a must-do to avoid photosensitivity, when utilizing the essential oils.
2. Bitter Gourd Face Mask Recipe For Dry Skin
Ingredients
½ bitter melon
1 tablespoon of shea butter
1 teaspoon of aloe vera gel
1 tablespoon of argan oil
How It Works
Among natural ingredients, Shea butter is a skin superfood, jam-packed with vitamins A and E, fatty (palmitic, stearic, oleic and linoleic) acids and polyphenols. Hailed as a heavy-duty, occlusive emollient with anti-inflammatory and antioxidant effects. It delivers a creamy, unctuous texture to fill cracks, soften flaky patches and retain the skin's natural oil that parched skin lacks.
Argan oil is abundant in vitamin E, omega fatty acids and linoleic acids, all of which restore the skin's moisture barrier and luminosity. Unlike coconut oil or castor oil, argan oil has a very lightweight consistency to amp up on moisturization without clogging your pores.
It keeps shea butter from re-hardening and hence, creates a thin coating, which is spreadable and penetrates deep into the skin. Both argan oil and shea butter reinforce the skin's natural moisturizing factors.
In regard to aloe vera gel, well, I bet it's right up your street. Aloe Vera boasts hydrating, healing and anti-inflammatory agents, thanks to its high content of polysaccharides, phytosterols, vitamins and minerals. It's able to soothe itchiness and discomfort, whilst thwarting the evaporation of water from the skin.
Dry skin is susceptible to impairment of the epidermis that forms the skin's barrier against environmental perils. The following symptoms can be itching, redness, flaking and premature aging. Along with those two emollients, bitter melon and aloe vera gel together help reduce irritation and redness as well as nurse the permeability barrier for a healthy-looking complexion.
Place raw shea butter in a metal or glass bowl and slightly heat it over a pot of hot water. Remove from the heat and add argan oil, bitter gourd and aloe vera gel to the melted shea butter. Use a hand-held mixer to whip all of the ingredients. Put the concoction all over your face. Leave it for 10 to 20 minutes. Then, rinse off with tepid water. Pat skin dry. Do it two times per week. Not recommended for those who have nut allergies.
3. Bitter Gourd Face Mask Recipe For Sensitive Skin
Ingredients
½ bitter melon
1 tablespoon of rose water
1 tablespoon of sunflower seed oil
3 drops of chamomile essential oil
How It Works
In search of therapeutic approaches next to bitter melon, rose water pops into my head. Rosewater has been used as a beauty elixir since Ancient Egypt. Renowned for its hydrating, balancing, anti-inflammatory and anti-aging abilities. It helps get the out-of-whack acid mantle back under control and hence, alleviates the skin's sensitivities including itchiness, redness, burning or stinging.
Chamomile essential oil is incorporated into the sensorial treatment. The daisy-shaped flower, one of the most treasured centuries-old skin remedies, primarily contains terpenoids and flavonoids, possessing healing, softening, calming and antioxidant activities. A little goes a long way, a few drops of chamomile essential oil help relieve inflammations and different bacterial infections of the skin like wounds, burns, eczema and skin irritations.
In combination with those ingredients, sunflower seed oil revitalizes the impaired barrier function as the partial culprit behind sensitive skin. A high level of linoleic acid in sunflower seed oil enhances moisture reservoir, inhibits discomfort and repair the outermost layer of the skin. Its polyunsaturated (linoleic) fatty acid is known to topically spark the reproduction of keratinocyte that makes up a significant proportion of the cells of the epidermis.
Immerse the paste of bitter gourd in rose water, sunflower oil and chamomile oil. Diffuse the concoction evenly all over your face. Left on for 10 to 15 minutes. Wash it off with light lukewarm water. Gently Pat skin dry with a soft towel. Then, apply a calming toner and a lightweight moisturizer without fragrance and alcohol. Do the mask once or twice per week.
4. Bitter Gourd Face Mask Recipe for Aging Skin
Ingredients
½ bitter melon
3-5 drops of rosehip seed oil
1 teaspoon of manuka honey
1 teaspoon of matcha green tea powder
(1 tablespoon of water)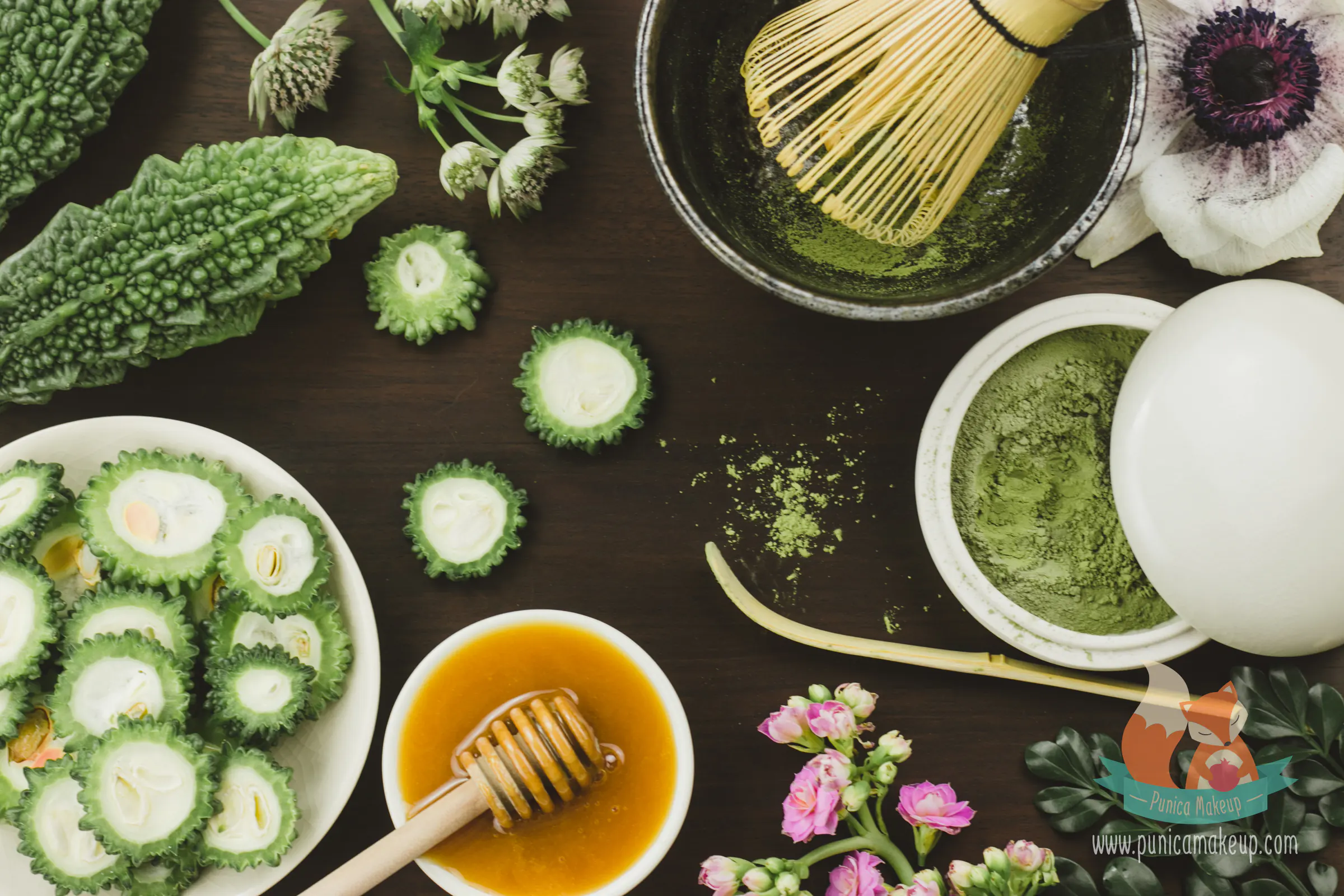 How It Works
Rosehip seed oil is touted as a natural alternative to retinol for its anti-stretch mark properties. Brimming with vitamin C, vitamin A and fatty acids, all of which stimulate the skin's rejuvenation. Merged with bitter melon as a good source of vitamin C, both the ingredients tend to brighten the skin, dampen the formation of hyperpigmentation and minimize oxidative damage. Vitamin A in rosehip oil is known to maintain the skin's elasticity and firmness by retarding the breakdown of important fibers like collagen and elastin.
Another potent ingredient is matcha green tea powder. Apparently, it's an integral part of Japanese tradition. Souped-up with anti-inflammatory agents and catechins especially EGCG (epigallocatechin gallate). The catechins, a type of phenolic compound, are super antioxidants to counteract free radicals and diminish the signs of aging. With photoprotective effects, it's inclined to alleviate UV-induced inflammation, correct discolored patches, repair sun damage and promote the building blocks of the skin.
To buff up the age-defying action of the bitter gourd mask, I have manuka honey up my sleeve. Laden with vitamins, peptides, minerals and flavonoids as antioxidants. Plus, manuka honey has gotten the buzz for its antibiotic and wound-dressing effects due to its ultra-high concentration of methylglyoxal (MGO). As such, it not only prevents the growth of antimicrobial-resistant bacteria but also boosts skin regeneration. At the same time, honey works as a natural humectant to retain moisture and smooth out wrinkles.
Pour a tiny bit of water into a bowl of matcha powder and honey. Whisk them up and next, stir the mixture with rosehip oil and the paste of bitter gourd. Spread the mask evenly over your face. Leave it on for 15 minutes. Wash off with tepid water and pat dry. Then, apply your anti-aging skincare products.
I really hope the post is informative and helpful to you all. Many of us may find bitter gourd quite foreign in skincare. You should try one of the masks and see how it really works wonders for your skin. If you have any questions or ideas to share, please tell us. This is really my big pleasure to hear you out. Thank you so much for spending your precious time on this post! Stay beautiful and positive, sisters!