Makeup seems more requisite to women in workplace in order to show their professional image. Even in high school, I can see how much fun lovely girls get with their makeup. However, slathering a lot of makeup layers day by day can be wreaking havoc on your skin. Particularly over the age of 30, skin supposedly says goodbye to the youth. Also, I'm on the way to nearly be there. It can speed up aging signs, arouse clogged, enlarged pores and even, lead to adult acne. We still have numerous choices to embrace our skin everyday during the mission, start from today. I'd love cuddling makeup products that are made of natural, nutrient-rich ingredients, so that tends to nourish my skin whilst wearing makeup.
I'm gonna share my review of Juice Beauty Phyto-Pigments Flawless Serum Foundation in Fair. The brand has been very well-known for its organic skincare and makeup goodies. So, there is no need to worry that harmful chemical things eat you up.
1. About the Product
Formulated with Aloe Vera (Aloe Barbadensis) leaf juice as a superb source of hydrating, soothing, anti-inflammatory and anti-aging properties. And, includes glycoproteins to stimulate the regeneration of collagen and elastin for a firm, supple looking skin. That tends to fortify the lipid barrier function to combat the invasion of external aggressors. Additionally, the foundation contains safflower oil (Carthamus Tinctorius) and sunflower seed oil (Helianthus Annuus). These both provide a high amount of Linoleic Acid (fatty acid), which is abundant in age-defying, antimicrobial, healing and moisturizing activities. Linoleic acid-rich oils are privilege for oily, acne-prone folk, it's usually lightweight with a thin consistency and non-comedogenic without causing clogged pores. Then, the product helps to ultimately replenish skin but also ensures nothing brings bad reactions in the long-term.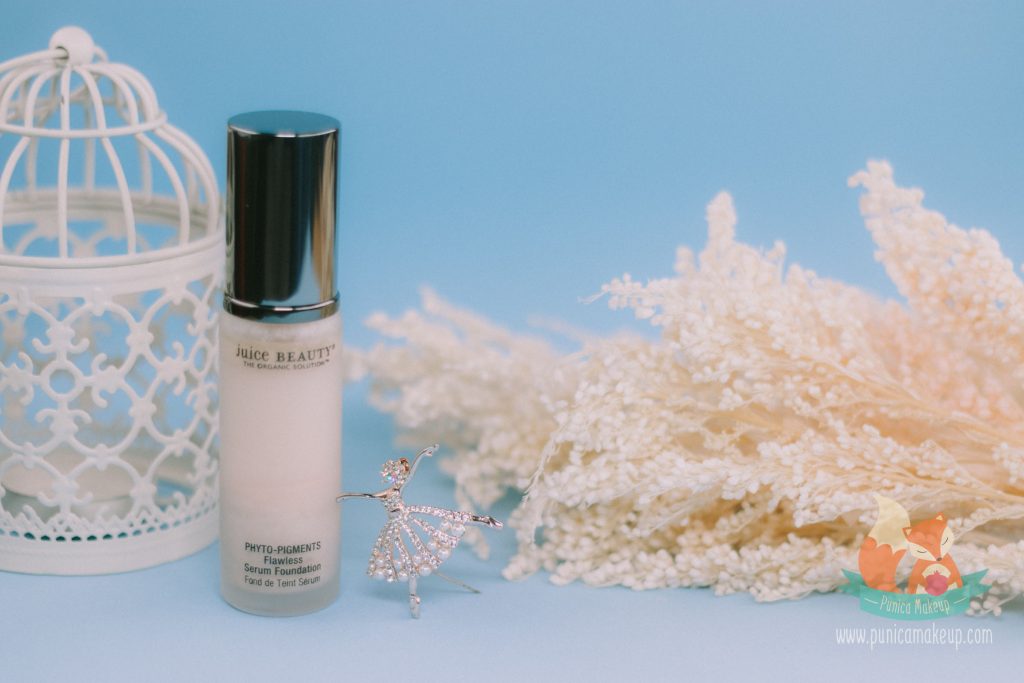 Furthermore, the foundation consists of glycerin derived from vegetable to trap moisture on skin upper layers and prevent transepidermal water loss. This is prone to reduce dullness and sagginess because of dryness. Instead of silicone derivatives to preserve moisture retention and result in silky texture, the company uses coconut alkanes (Cocos Nucifera) to deliver incredibly moisturizing effect and improve skin enduring smoothness. Exceptionally infused with the plant stem cell extracts from lemon leaf (Citrus Medica Limonum), apple buds and grape buds. That's inclined to vigorously energize dull, damaged cells of skin and hence, accelerate its recoverability for healthy, lively look.
Importantly, blended with grapeseed oil, loaded with fatty acids, mostly omega 6 (linoleic acid), vitamin E as an antioxidant and antibacterial agent. This remarkably decreases the appearance of dry patches, scales and flakiness as well as fill in wrinkles and fine lines. To minimize skin oxidative stress and fatigue, the product includes vitamins E (Tocopherol) and C (Tetrahexyldecyl Ascorbate). The ingredients also revitalize skin and increase the complexion vibrancy. Moreover, contained Argan (Argania Spinosa) shell powder helps to boost hydration, rejuvenate with its exfoliating nature and give emollient shield against environmental perils.
The foundation provides medium to coverage that is mineral tinted (iron oxides). And, it's naturally pigmented by rose flower (Rosa Gallica) powder as an alternative to coal tar and petroleum dyes. Lastly, there are thickening, buffering, emulsifying and preservative agents, such as potassium cetyl phosphate, sodium benzoate or sodium bicarbonate. The product is certified organic, vegan and cruelty-free in the absence of pesticides, parabens, petroleum, propylene or butylene glycol, phthalates, sodium lauryl sulfates, artificial colorants or synthetic fragrances.
2. My Thoughts
After dumping my previous foundations, I decided to use the Juice Beauty Phyto-Pigments Flawless Serum Foundation and start seriously taking care of my skin. The shade I got here is Fair for porcelain, very light skin with neutral undertone. Unfortunately, this is lighter than my natural skin tone. That's my fault anyway, I thought the shade was a perfect match to my fair skin and didn't check carefully. I should have chosen Buff or Cream for light skin with yellow undertone. Then, I mix the foundation with shade adjusting drops. The problem is fixed!
At the first glance, the foundation is visibly separated into two substances in the bottle, the fluid floating on top and the solid one sinking down to the bottom. When laying down onto bare skin, it's literally watery and runny with a serum texture. Necessarily, shake the bottle before using to mix the things up and make the foundation less runny and more concentrated. In case of applying with fingertips, remember to pump very small amounts and gradually blend or dab upon skin. If you take too much, the fluid may run down to your hand palms and smear around. Otherwise, you can use makeup brush with dense bristles and flat top. It easily manages to pick up, blend, buff and stipple the liquid foundation for an even, natural look.
The product is so blendable to diffuse effortlessly on skin with fingers. It's gliding gorgeously, results in velvety, silky texture. I really love its texture, genuinely splendid, airy and impeccable, there aren't patchy, uneven residues or streaks. It's very lightweight, the foundation dries down and fit into skin so fast, like in seconds, rather than sits on top of the surface. This is so cool, like you're wearing your own new skin. In spite of being a bit tacky initially, you soon find it clean and fresh. To achieve a glowing look, illuminating primer is go-to.
Once the foundation dries down, it becomes persistent and hard to spread out. So, I need to blend it quickly. The product leaves a satin, semi-matte finish, precisely, it's prone to be more matte in it, but still softly reflect the light. You can see a mildly radiant complexion, not dull or caked-on. This is ideal for oily skin with overwhelming shine and stickiness. I'd say the foundation tends to deliver sheer to medium coverage, apply extra layers on top for high coverage.
However, to me, I don't think it gives full coverage, it could be that way in case of those who don't have problematic imperfections, for example, acne scars, pimples and sunspots. The foundation nailed it to neutralize and brighten up the discolorations, particularly shallow areas under eyes as well as provide a flawless look naturally. It can conceal some minor imperfections. Otherwise, when dealing with much more stubborn ones, such as whopping zits, blemishes or dark spots, it's able to cover up 80 to 85% of the things.
My skin is a type of combination, sensitive and also, acne-prone. I'm more likely to get acnes because of stress, sleep deprivation and menstrual period. The product nearly covers up all of my imperfections, except for bulging zits, bumps and acne scars. After four hours, these nasty "criminals" show themselves again. Anyway, I still appreciate the product is literally fantastic.
The foundation doesn't settle in the pores or fine lines. Now mention this, I tried applying the foundation without primer and moisturizing cream beneath, it didn't cause my skin cracked or horrendously flaky. That was really awesome! However, it imperceptibly brought out fine lines on my forehead after 5 to 6 hours. But, this is not a big deal, I can handle it well with my moisturizing cream or primer in order to smooth out some dry patches and fine lines prior to applying the foundation.
Furthermore, I also found my skin moderately shiny and greasy, especially on the T-zone area after more than 6 hours. So, my solution is finishing powder to regulate excessive sebum and sheen. Most of skin types are gonna love the product, such as normal, combination, sensitive, dry and oily. Dry folk can use illuminating primer and moisturizer before the foundation to diminish dull looking skin, like I said before.
The foundation is amazingly safe to skin, it doesn't consist of harmful chemicals and artificial fragrances to arouse skin pesky problems. So, dollies who have chronic conditions, like psoriasis or rosacea, can go for it. The product is alone fairly long lasting for 7 hours and a half. Later on, it tends to be uneven and leave streaks around my nose, chin and temples. Gently sweeping powder on top sets the foundation in place for long wearing.
3. Packaging
Housed in a small glass bottle with high-quality, silver pump and lid on top. The bottle is handy and neat, it sufficiently fits into my hand. It's quite heavy but doesn't take too much space in my traveling bag. The lid perfectly covers up the pump, sometimes I feel hard to open it. The lid isn't loosening at all. That tends to protect the pump from not only physical damage but also dirt, pollutants and bacteria sneaking into. The pump isn't stuck or broken, it's easy to use.
[amazon box="B0768Q4MM1″ description=" " template="widget-vertical"]
4. Rating 8/10
All about the product is adorable to apply it everyday for its makeup and skincare activities. I should choose a proper shade in the next order, that would be great. I'll give it 8 out of 10.
Hope the review is useful and informative enough about the Juice Beauty Phyto-Pigments Flawless Serum Foundation in Fair color. If you have any questions or ideas, please be open with me. I'd love to hear you out and that's my pleasure. Thank you so much for joining me, dear!