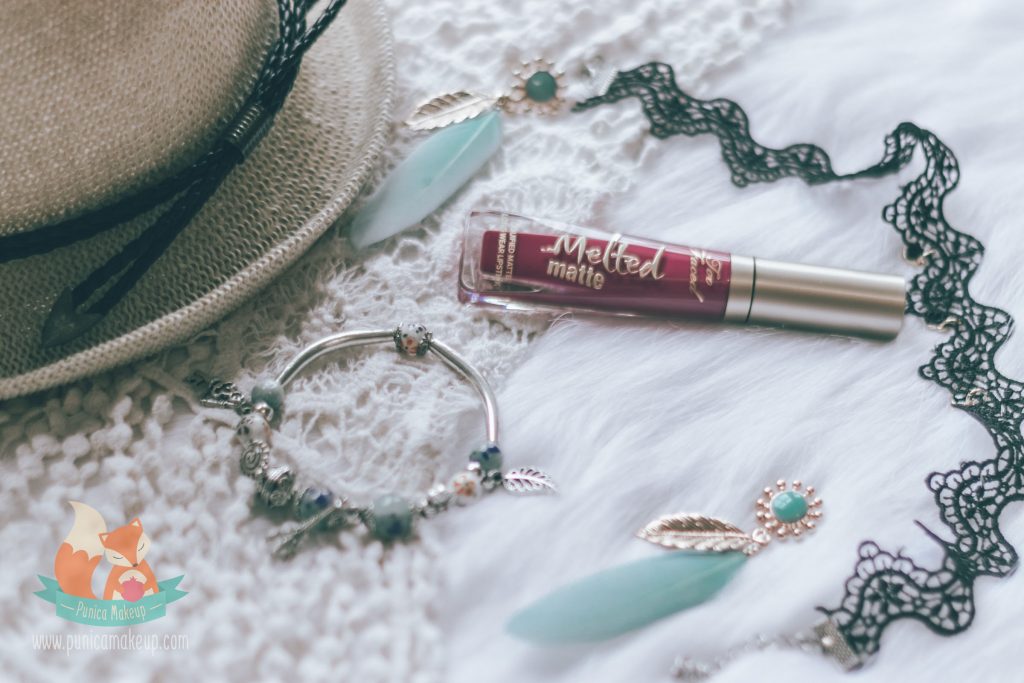 Some liquid lipsticks I've been open to my sweet dreamers come from the Tarte Cosmetics. One is very nice for both daily and occasional affairs, whereas another may be simply not my type, but it's still adorable for lots of us. There is a newcomer in my hands right now. At the first glance, "she" frankly looks elegant and a bit sassy, don't ya think?
Unfortunately, it seems hard to me this time, I had to apply it over and over again day by day to see how it would happen to my pout. I was attempting to be upfront about my actual experience with the lipstick. Half is positive and half is negative. Anyway, I'm gonna try my best to give an accurate review of Too Faced – Melted Matte Liquified Long Wear – Matte Lipstick in Bend & Snap.
Its' outlook is dazzlingly gorgeous with shiny golden decoration and an appealing shade, we may be inevitably curious about. Sadly, this is really not easy to be "tamed."
1. About the Product
The liquid lipstick is meant to effortlessly fill in and plump up our lips as well as give velvety ultra-matte finish. Infused with an innovative formulation of Volulip™. This is an lip plumper associated with plant-derived ingredient (Portulaca Pilosa Extract) and a natural modified matrikine-mimetic peptide to trigger the hyaluronic acid synthesis. The technology tends to increase the lip volume while providing moisturizing, age-defying and anti-sagging properties. Then, the product is supposed to not only deliver beautiful makeup, but also a fuller, healthier look.
Moreover, it contains vitamin E and Persea Gratissima (Avocado) Oil, which are rich in anti-aging and hydrating elements. Formulated with Beeswax as a thickening agent to make the lipstick not runny, trap moisture in lips and keep the shade long-wearing. I just want to make notice for some of us who can be topically allergic with bee products, such as beeswax, honey or bee venom. Plus, includes Isododecane, a very common synthetic hydrocarbon substance, helps the lipstick to be weightless and enduring as well as spread evenly and diminish color transfer.
Silicon based cyclic compound (Cyclopentasiloxane) and silicon based polymers (Dimethicone and Trimethylsiloxysilicate) together function as conditioning agents for a soft, smooth texture. In addition, Silica extract (Silica Dimethyl Silylate) does its' job as a suspending, anticaking or bulking agent to avoid the lipstick being chapped and make its' color hold up longer. Supportively, Helianthus Annuus (Sunflower) Seed oil is inclined to improve emollient retention upon lips.
Dyed with mineral pigmentation of Titanium Dioxide, Carmine (Cl 75470) as a derivative of the shells of female insect to capture bright red and pink, Manganese Violet (Cl 77742) for violet pigment and Red 28 Lake (Cl 45410), a coal tar based colorant. Normally, Carmine has been a natural dye for a long time ago and much less hazardous than coal tar based colorants. Lastly, the product consist of many chemical ingredients as preservative and conditioning agent or stabilizing agents.
2. My thoughts
I'm a type of "risk averse" person, more likely to make safe choices with amicable, mild shades, like coral pink or nude peach. This time is very distinctive than before. Bend & Snap! is medium to deep berry with a magenta undertone and an opaque, matte finish. Gotta say it's literally intense and delivers a dramatic appearance, bold, seductive and mysterious. What I'm saying is the color at the time of the product's being set onto lips.
When taking coats for a full coverage, it ends up with a clearly different look from the thing I see through the tube. The fact is the color tends to look a bit darker when applied onto my lips. Ok, I'm not really disgruntled about this. The point is it becomes even darker and duller after exposing outside too long, is this just my imagination or am I the only one get the bad luck with it? If you have used the Melted Matte liquid lipstick in Bend & Snap! already, please share your feelings with me!. However, the shade seems appealing and looks good on the medium tan skin of my friend. She is quite into it, I really hope for a little brighter berry. But, this may be pretty "heavy" for pale, fair and light skin tones.
Bet the deep berry is more suitable for nights out or festive occasions rather than the daytime. Of course, I don't want to get attention at work, it's like my lips jumping out at someone. Speaking of the consistency, the product k is undeniably liquified, but slightly creamy, it does give a lightweight sensation. I think this is a positive point in the review. Otherwise, how to apply the lipstick is one of the worst experience that I've ever had honestly.
It's very stubborn and hard to achieve a neat and symmetrical application to my lips, especially the outer edges and cupid's bow. I literally put lots of focus and effort for a perfect result. Absolutely, need a big help of lip liner and avoid being rush whilst applying. For beginners, you may feel a bit challenge with the lipstick.
Once I'm done coating, it needs to take some seconds to let my work dry down before pressing my lips together. If not, the texture looks awful with splotchy marks and losing somehow. So, you may not want that. Moreover, the formulation seems not drying down utterly to be transfer-proof. But, rather appears unpleasantly with subtle patchy residues and streaks. It's not smooth, velvety, seamless or buildable that I covet. Slightly settles into cracks and fine lines. Using my fingertips to dab and blend it out results in a mess. I think it would be better if the company made the consistency creamier, don't want to be harsh, but I'm fairly disappointed.
As mentioned in the product description, it's supposed to be hydrating and moisturizing on my lips. However, I frankly feel dry and have to put lip balm underneath. Regard to the long wearing part, it's kiss, stain transfer to anything my lips can interact with, such as eating and drinking. The lipstick starts crumbling off from the inner middle and corners of my lips after 6-7 hours. It even smears onto my food and spoon, like I'm eating my lipstick, especially when doing extra coats to touch up for a bolder look. This completely turns me off about the product. Furthermore, applying many layers on top make the texture more uneven and patchier.
3. Packaging
Housed in an elegant, transparent tube with golden, prominent texts "Melted Matte." Genuinely adorable and deluxe, I'm digging into its' packaging design. I has a golden tall lid that you can grab comfortably and give more definition into your application. The narrow tube head is designed well, the liquid lipstick couldn't spill out or stain the lid. Very clean and sanitary I can tell. The applicator is a small angled sponge for an accurate application.
4. Rating 7/10
I'm really sorry if my experience gives bad impression or makes you feel down. This is just my very personal review. It doesn't work for my case, doesn't mean it won't for you, dollies! A lot of us still find it adorable and stunning. Perhaps, I should try other shades and may get better experience. So, I'll give it 7 out of 10.
Hope my review is useful and informative enough about the Melted Matte Liquified Long Wear Matte Lipstick in Bend & Snap! If you have any ideas or questions, please let me know your thoughts. I'd love to hear you out. Thank you so much for being a part of my story.