Women always want to look perfect and stunning on their dates. Sometimes, we've exaggerated about it that might make us look so awkward and nervous. The important is let's make us natural and confident as much as we can. Some of the makeup tips that I'm gonna share with you all today help girls to pull off their beauty on their dates.
1. Preparation
To boost a confident look, You gotta take seriously having your own skincare regimen from today. Toner, Emulsion, Serum, essence or cream are all you can use to nourish your skin for daytime and nighttime. They kinda provide moisturizing and anti-aging elements to your skin.
Remember to pick suitable skincare products for your skin types. Your skin need to look healthy and youthful with even complexion before the first date.
Moreover, don't forget to wear sun cream for daily skin protection against damages of UV rays that might cause enlarged pores, breakouts, uneven skin tone and aging spots.
2. Primer
You need to choose a proper primer for your makeup that's gonna make your skin look smooth and velvety. When applying foundation on top of it, there is no feeling streaky and patchy. It's gonna soften your skin texture and cover up large pores or minor flaws.
I'd love to suggest you all check out the Optical Illusion Complexion Primer of Urban Decay.
3. Foundation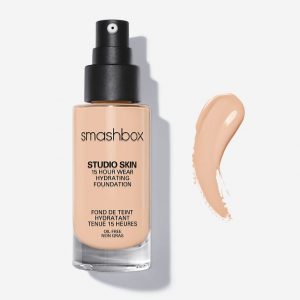 You should avoid having a thick and full coverage that might make your face look cakey and dull. Instead, a lightweight foundation is always the best for a natural and fresh look.
If your skin is extremely dry, you can pick a foundation that moisturizes you skin beneath makeup layers.
I suggest the Smashbox Studio Skin for 15 hours long-lasting, hydrating effect and nice coverage. Moreover, you need to pick the right shade that matches your skin tone to show your natural self.
4. Concealer
My recommendation for doing lightweight concealer under your eyes is NARS radiant creamy concealer. It's gonna give a nice cover over imperfections, like dark spots or wrinkles.
Don't obsessively draw triangles under your eyes because it tends to appear your skin blotchy and uneven.
5. Eyeliner
I gotta say eyeliner is incredibly useful to accentuate your eye shapes. It makes your eyes look bigger as well as your face looks livelier.
Otherwise, it'll be gone wrong if applying heavy, thick eyeliners to both upper and under lashes as your face appears overdone and looks older.
A mild, thin line for only upper eyelashes with a bit feline flick at the end is enough for a natural, loveable look. Remember, less means more, dollies! Besides, use mascara for voluminous eyelashes.
6. Eyebrows
I love girls with slight arched eyebrows. I think it's really sweet and natural, trust me!
You can use a small stroke to draw a bit curve at the bottom of your brows and then, lightly fill in your eyebrows with shades that match with your hair colors.
Furthermore, don't square the start of your eyebrows and instead, use a flat shader brush to blend your eyebrow product forward for a softer look.
7.Eyeshadow
You can fill in your eyelids with a matte finish of different pigments to do a gradient effect on eyeshadow. Remember to choose light, soft and neutral transition shades that make you look youthful.
Additionally, fill a little shimmer in your brow bones to intensify the shape of your eyebrows and also, inner corners of your eyes to make your eyes pop out.
8. Contour
Contour helps to accentuate your features; but don't be so harsh for it. You can lighten your hand pressure and highlight your nose to add length and width, both upper and lower lips to make your lips more plump and also, cheekbones to make for your face look perfectly sculpted.
It's extremely important to choose a foundation stick that has a color matching with your skin tone because you don't want your face to appear uneven and dull in front of your crush, girls. Just follow natural is the best! Make sure your highlight needs to be blended before the date time.
9. Blush
If you have a fair skin tone, Let's try a baby pink of Bobbi Brown or a peachy shade of NARS, which will bring out your face with a stunning look. For medium skin, a mauve shadow of Urban Decay and or an orangey tinge of NARS will warm up your skin complexion.
10. Lipstick
You can try Fawn Over Me and Truth Or Bare of Marc Jacobs Le Marc Liquid Lip Cremes. A mild, mattifying pink might bring a sweet colour for your first day.
Don't be exaggerate with lip liners or you can skip it. Lip liners might turn to narrow your lips and add age to your face.
I really hope this post can somehow help you to have more ideas about how to have a great look for your first date. If you have any ideas, please let me know. I'd love to hear you out. Thank you so much for spending your time with us!