There are thousands of cleansers with a dose of advanced formulas, waiting for us to figure out. We could never shake off how important the habitual cleansing is on our journey to a beautiful, youthful looking skin. This is the first step of skincare ritual to remove all of nasty factors which build up and probably cause a chain of problematic conditions. Have you ever had the guts to leave your face uncleansed and covered up with makeup, grime, excessive oil and pollutants throughout the night. The ugly side might not be obvious at first or second night. But, here it comes, What a pain! Skin seems to get wounded on the battlefield, like swelling, acnes, breakouts, roughness, discolorations and wrinkles.
I usually do double cleansing at night to utterly get rid of unwanted residues. Oil-based cleanser tends to solubilize and dissolve persistent, waterproof makeup and sebum stuck into the pores. Gotta say this is must-do before moving to another type of cleanser that is meant to finish what we started. I'm gonna walk us through my review of Juice Beauty Cleansing Milk. The product has been accompanying me for roughly a year so I guess I'm able to give details about it.
1. About the Product
The cleansing milk promises to effectively eliminate all of impurities, even makeup, while calming sensitivity and smoothing out the aging signs. Formulated with numerous natural extracts which are abundant in nutrients, mild and amicable to skin. The product contains Aloe leaf (Aloe Barbadensis) juice, loaded with glycoproteins, soothing, anti-inflammatory, healing and hydrating agents. It mitigates the negative influences of environmental perils onto the lipid barrier function after heading outdoor so long.
Moreover, infused with juices of white grape (Vitis Vinifera) and red raspberry (Rubus Idaeus). These two provide multivitamins, antioxidants (Restrovenol in grape and Phenolic compounds in raspberry) and Hydroxy Acids. Inclined to energize and restore dull, damaged cells as well as rejuvenate skin. Next, the cleansing milk consists of many botanical derived ingredients from Chamomile (Matricaria Chamomilla), Marigold (Calendula Officinalis) and Linden (Tilia Cordata). Famed for their astoundingly soothing and hydrating properties in order to alleviate the irritations, dampen the appearance of fatigue and sustain skin water retention. The product seems to be desirable for those who have sensitive skins.
There are also included variety of essential oils of sweet almond (Prunus Amygdalus Dulcis), sesame seed (Sesamum Indicum), safflower seed (Carthamus Tinctorius), sunflower seed (Helianthus Annuus), grape seed (Vitis Vinifera), orange (Citrus Sinensis) and frankincense (Boswellia Carterii). All of them boast a powerhouse of fatty acids, antiviral, antimicrobial, recovering, age-defying and moisturizing properties. Those tend to prevent bacterial breeding, refine the pores, diminish oxidative stress triggered by environmental aggressors and reduce transepidermal water loss.
Furthermore, the product is enriched with mild vitamins B (Panthenol), C (Ascorbic Acid) and E (Tocopherol). The panthenol is a kind of humectant that is able to penetrate deeply into skin layers and regulate its moisture content. Ascorbic acid functions as an antioxidant to revitalize skin for a young, lively look and brighten up the complexion. And, tocopherol brings about anti-aging effect to offset the external free-radicals. Simultaneously, play the role of preservative as an alternative of toxic chemicals to maintain the product's quality.
Last but not least, the product includes some ingredients as preservative, conditioning, stabilizing, thickening and emulsifying agents. There are Cetearyl Alcohol, Cetearyl Glucoside, Ceteareth-20, Potassium Sorbate, Calcium Gluconate, Sodium Benzoate, Gluconolactone and Caprylic or Capric Triglyceride. It's cruelty-free, vegan and certified organic in the absence of Sodium Lauryl Sulfates, Parabens, Petroleum, Pesticides, Propylene or Butylene Glycol, Phthalates, artificial colorants or synthetic perfumes.
2. My Thoughts
Picking the wrong cleansers could strip skin away and aggravate the dryness or dehydration. My skin underwent a savage life of struggling with flakiness, terrible redness and lingering itchiness from later 2016 to the middle of the next year. Before that, I also had suffered allergic breakouts. I have no idea about what happened to me, but that was really my shitty, chaotic period of time. So, I decided to dump all of previous skincare products and starting over with new ones. The Juice Beauty Cleansing Milk is one of my favourite skincare goodies at the moment.
The product has very creamy, white paste with a fairly thick texture, but it doesn't cause overwhelming greasiness or heavy feelings along. Once splashing my face with water, pump once or twice to hand palms, warm it up and apply all over my face. The cleanser diffuses quickly on skin surface and turns into thinner layers that make it easier to spread out. At the first month of using, when my skin was pathetically flaky and scaly, I was quite disappointed about it. The product's refining activities were good, otherwise not hydrating enough. My skin usually had very dry, tight sensations after cleansing, as if the product leached my skin's moisture away even more. I thought this might not be an ideal choice, I should have switched to another giving higher emollient effects.
However, I then changed my mind and kept patience on it for its natural, nutrient-rich ingredients. I also tried to apply moisturizers properly in the day and night time as well as do sleeping mask three times per week. Within 5 to 6 months, my skin gradually became normal and retained more hydration, there were less itchy, blistering sensations and redness. I've still been using the product until now, it slowly redeems my trust! When massaging my skin in circular motion with the cleanser, it's really hydrating and relaxing, much different than before.
After about 15 to 20 seconds, rinse it off with lukewarm water and gently pat my face dry. I don't find "the squeaky clean" or unpleasant tightness anymore, my skin looks moist, plump and supple with healthy luminosity upon. Sometimes, feel a bit dry because of changing weathers, but that is fine once I apply moisturizers afterward. The product is not the type of lathering or foaming cleanser, so it's non-irritating and helps to make skin stay hydrated. I'd highly recommend this to delicate skins.
Speaking of how effectively the cleanser does its job, it liberates the pores from majority of impurities, such as dirt, oily traces, pollutants, sunscreen and perhaps, minimal makeup. The product doesn't work well to take off my eyeshadows, eyeliners and mascara. It might be go-to for everyday skincare routine. Otherwise, regarding folk who often wear heavy, slathering makeup, this one is not able to solely remove the unwanted residues all the way. I love doing double cleansing with the oil based first to dissolve all of waterproof makeup and then, the cleansing milk to perfectly fulfill the rest.
Normal, combination, sensitive, dry, mature and oily skins can go for it. If your skin is very oily and acne-prone, Juice Beauty has blemish clearing cleanser, which might be more suitable for your condition. the smell is hard to describe, it's sour, lemon-like scent.
3. Packaging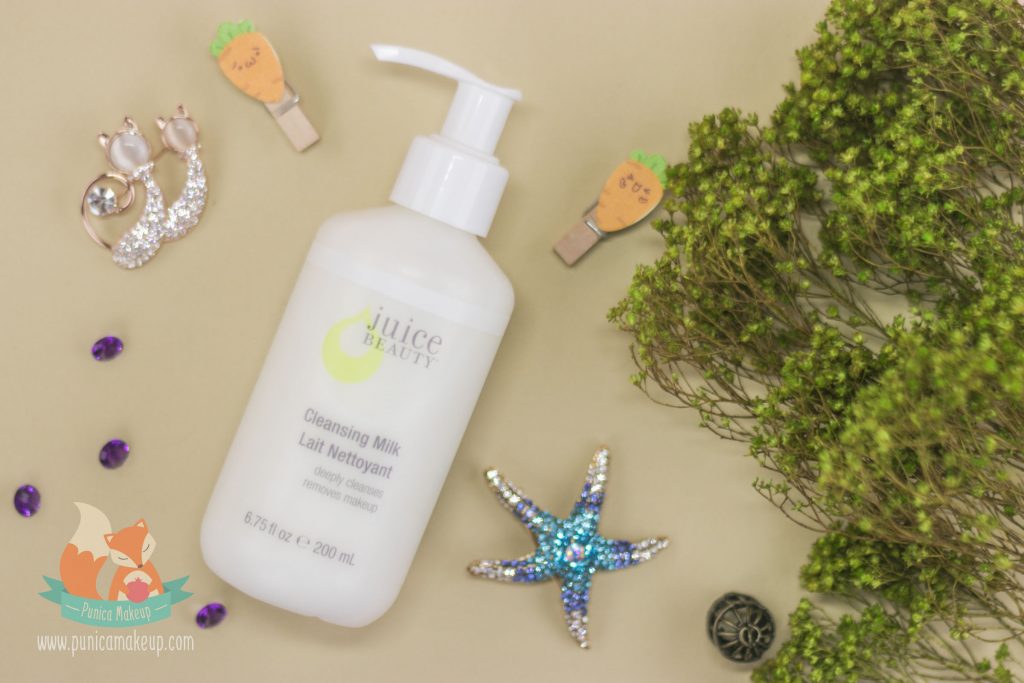 Housed in the semi-opaque plastic bottle (200 ml) with a pump, which is convenient to take the cleanser out as well as prevent bacteria, dust or water from sneaking inside. The packaging design of Juice Beauty is mostly simple with white and yellowish green colors. When nearly reaching to the bottom, lots of remaining amount is more likely to reside around the bottle's edges and stuck onto somewhere else in the bottle. The biggest problem is its narrow mouth is troublesome to get the cleanser out so I gotta cut it into halves to make the way. The bottle is very tough to withstand any physical damage or smash.
[amazon box="B000UV7FXE" description=" " template="widget-vertical"]
4. Rating 8/10
I think the product is fantastic and worth to have in daily skincare routine. It includes certified organic, natural ingredients without harmful chemicals. However, for those who have very dry skin, it may take a few weeks or even, months to see the improvement. In fact, I've not gotten any other choices besides this. I'd give it 8 out of 10.
Hope the review is useful and informative enough about the Juice Beauty Cleansing Milk. If you have any questions or ideas, please share with me. I'd love to hear you out. Thank you so much for joining me!