Have you ever found overwhelmed by how cool someone's makeup is? I'm sure that we all have. Makeup is always fulfilled with an innovation of game-changers that impart damn near flawless looks. If you are one of the beauty junkies who still chase after the shimmering trend, there is no need to restrain your craze. Welcome to my review of Face Illuminator Highlighting Powder in Indiscretion, one of my Laura Mercier makeup products that I received for testing, aside from Tinted Moisturizer Oil-Free Broad Spectrum SPF 20 and Foundation Primer.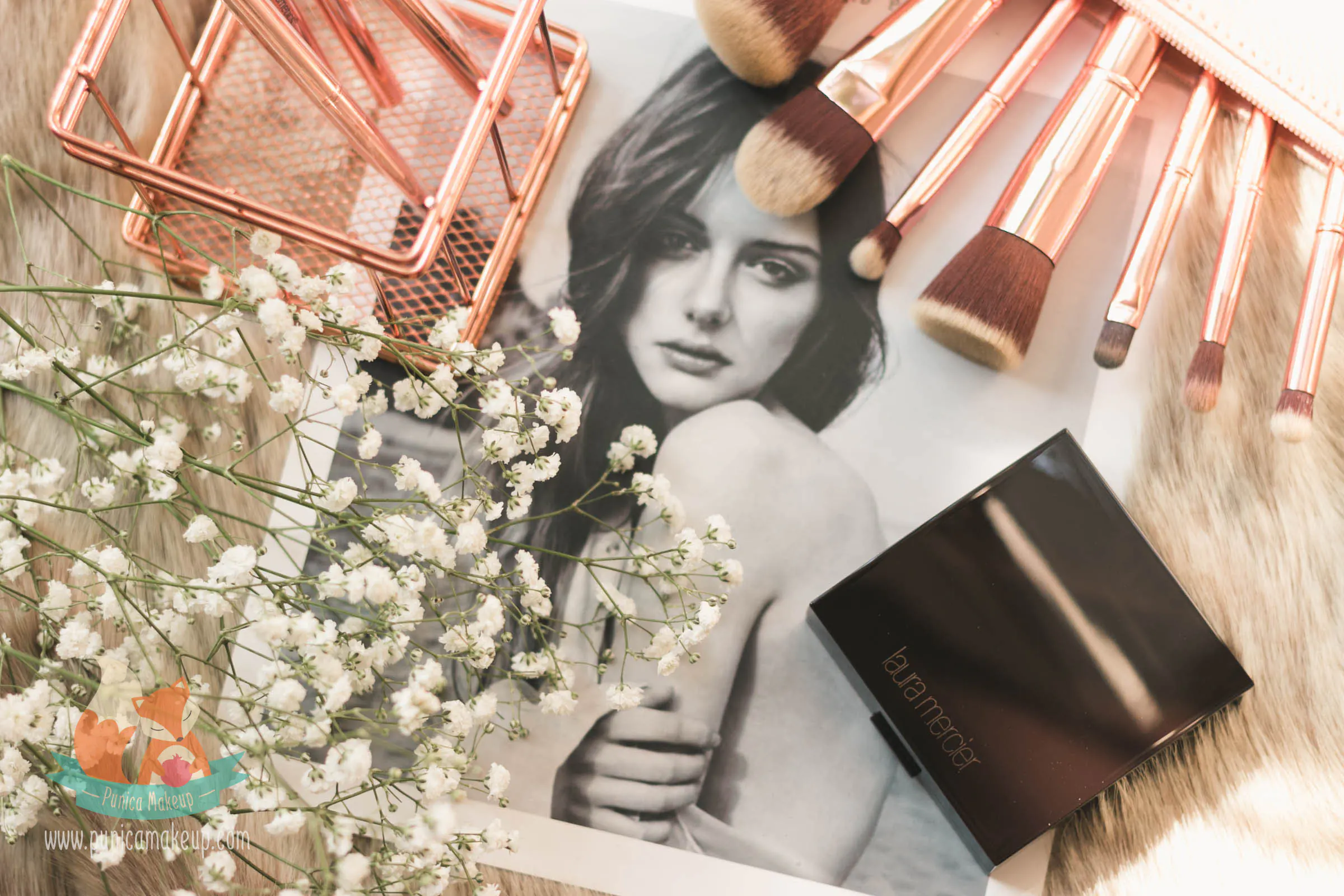 This is a kind of glow-giving beautifier for a sultry, gleaming complexion that is super iconic on Instagram and Youtube. Apparently, there will be some cons and pros to it, some people may like it, some may not. Stay tuned! We are going to be upfront enumerating them all. Let's see how far the product can fit our cravings.
1. Formulated with a Lot of Chemicals for Conditioning, Sparkling and Formula Stabilizing Effects
Infused with light-reflecting pigments that allegedly hold up the product's true color stunning on all skin tones with multi-dimensional luminosity. The product claims to provide high pigmentation and a non-dusting texture, gliding on skin without patchiness. Its exceptional formula tends to instantly give natural-looking radiance that stays up to eight hours.
Mica is a silicate mineral that is credited with adding a natural shimmery effect in the highlighter. Additionally, Synthetic Fluorphlogopite, another type of Mica, brings about a wide range of effects, shimmers and colors. Its high molecular weight makes it ideal for use as a bulking agent to increase the volume of the product. Moreover, the large size of its particles makes it penetrate into the skin to a very limited degree so Synthetic Fluorphlogopite seems non-irritating.
Formulated with a plethora of skin conditioning agents. There are Cetearyl Ethylhexanoate, Octyldodecyl Stearoyl Stearate, Squalane, 1,2-Hexanediol, Caprylyl Glycol, Ethylhexylglycerin, Chondrus Crispus (Carrageenan), Xanthan Gum and Glycerin. These tend to result in a seamless feel to the touch. 1,2-Hexanediol can be a low-hazard preservative. Glycerin also works as a bonding agent in makeup. Xanthan Gum is considered safe and is also used as a binder, an emulsion stabilizer, a surfactant and a thickener.
Plus, the various functions of Ethylhexylglycerin are an alternative to parabens, a preservative enhancer to enhance other preservatives, a surfactant and a deodorizer to minimize the odor-causing bacteria.
The product contains other chemicals. HDI/Trimethylol Hexyllactone Crosspolymer, a synthetic polymer, acts as an anti-caking or an absorbing agent to remove excess moisture and prevent the product powder from clumping.
Polysorbate 80 is a surfactant and emulsifier to stabilize the formula by helping other ingredients dissolve in a solvent. Silica, a mineral commonly found in sandstone, clay, and granite, functions as an absorbing and thickening agent. Likewise, it helps keep the product's pigments from settling in makeup, which makes them spread evenly.
Furthermore, the formula contains Pentaerythrityl Tetra-Di-T-Butyl Hydroxyhydrocinnamate, which is an antioxidant. This helps fight off external aggressors to preserve the product's quality. It's considered a low-hazard ingredient. Dicalcium Phosphate, normally used in face powders, is an abrasive and an opacifying agent to smooth out the texture as well as improve its coverage.
More importantly, the product's coating is packed with mineral pigments, such as Ci 77891 (Titanium Dioxide), Ci 77491, Ci 77492 (Iron Oxides).
2. A Mild, Subtle Sheen with Silky Application and a Peachy Tinge
The formula is pressed-powder, very easy to diffuse. Okay, above all, I'm so impressed by how elegant the pan is, which literally feasts my eyes. This is one of the most appealing highlighters in my wardrobe. When I first opened it, I thought that it would be light champagne or gold in a pearly finish. However, it ends up being way too different from what I imagined when swatched on my skin. Indiscretion turns out to be a warm peach shade with a hint of tan or brown, to be exact, it looks pretty bronzy.
For those who have porcelain, pale or fair skin tone, like me, you may find disappointed to use it as a highlighter, since it's supposed to be light and shiny on the high points of the face. The shade seems more suitable for medium to dark skin tones. It's deeper than my skin color that is quite fair, so I use it in place of my bronzer.
The Face Illuminator Powder gives a velvety feel that glides splendidly on bare skin in a satin finish. Very buildable and blendable. I'm so digging the formula, it's not terribly chalky like many typical face powders, rather it's a little creamy. If you use your fingertips to apply, the texture is seemingly non-dusting as it claims, finely milled and smooth like dream. Otherwise, in the case of using a brush, I find that it's hard to pick up the pigment by merely tapping, so you may dig in or swirl in there and that makes it pretty dusty.
I usually use a big, fluffy brush to sweep it over my cheekbones in a downward motion and also, slightly add onto my temples. It results in a genuinely soft application, laying a sunkissed glow which is low-key for a natural tan to warm up your skin color in the summer. There is a nonchalant, muted sheen to it. Not have to worry about overdoing or being like a disco ball.
The pigment is nice, it tends to sheer out and be subtle when blended with the brush. So, you may have to put some effort to build up for a bolder look. I think the product is ideal with a semi-matte foundation in order to leave mild luminosity on the complexion. I often use my dewy setting spray to set everything in place and give more glow to it.
Recommended for most skin types, even oily. Otherwise, maybe folks with dry skin and a lot of imperfections prefer the creamier highlighter or bronzer to avoid settling in dry patches. It doesn't seem that the Face Illuminator Powder pronounces skin imperfections, like pores or fine lines.
However, my skin has breakouts at times. A few hours later, it fairly brings out the bumpiness. Make sure that you work things out with your skincare products, primer and foundation beforehand. The Face Illuminator Powder lasts for six to seven hours, then I need a touch-up throughout the day.
3. Tough and Lightweight Packaging
The Face Illuminator Powder comes into a square mirrored compact (9g/0.3 oz) in glossy brownish-black. It's very sturdy and handy to protect your highlighter, although the glossy black makes it visibly attract a lot of grime and dirt. It fits my hand very well to grab while applying the product. More importantly, the compact is extremely lightweight so I can put it in my makeup bag all the time. I really like its packaging. You can find the product's description or ingredients in the cardboard box.
4. My Rating (7/10): Would Purchase a Lighter Shade
I kind of like its texture and color, but to be frank, this is not a good highlighter for me. I would have chosen something that is lighter and more blinding, like frosted champagne to be my highlighter. This is quite a fail. As a bronzer, I might reconsider it. I bet that Face Illuminator Highlighting Powder in Indiscretion is the go-to for medium to dark skin tone. I'd give it 7 out of 10.
This is my very own opinion and personal experience, maybe it doesn't work for me, but it does for you. So, don't give up on it. Try it out and I really hope you will have a fantastic experience. Thank you so much for joining me, pretties!