I don't know certainly when red becomes so empowering to women, but it has labeled our timeless beauty, especially red lipsticks. "Heels and red lipstick will put the fear of God into people," says Dita Von Teese, a Burlesque star. Sporting hues of rouge, ruby and crimson have long since demonstrated women's social class, wealth, dominance and fashion. Then, the presence of red lipstick seems to grow beyond the mere outlook, it commenced the revolution of women's rights.
The story of Elizabeth Arden as one of the very first women-owned a business in 1910, ignited the courage of New York suffragettes with her "Red Door Red" shade of lipstick. She has made red lipstick iconic in the name of feminism, liberty and rebellion. The second wave was her "Victory Red", which brought hope and morale to women in the armed forces to conquer World War II.
Women still have to go through a lot of hardships these days, a tube of red lipstick is enough to revive us. In this post, I'm so eager to share my feelings about NYX Liquid Suede Cream Lipstick in Kitten Heels. I think this is literally tempting rouge, whether it's able to live up to girls' expectations?
1. About the Product
The liquid lipstick claims to deliver a silky matte finish that beautifully glides onto lips with vibrant, devine colors.
Formulated with Petrolatum, also known as Petroleum Jelly, which is commonly found in Vaseline. The ingredient is abundant in emollients to foil the evaporation of natural moisture as well as minimize dry, chapped-looking lips. Moreover, the formulation contains numerous silicone derivatives, such as Isododecane, Dimethicone, Trimethylsiloxysilicate, Cyclohexasiloxane and Cyclopentasiloxane. These work as solvents, softeners and texture enhancers to boost the product's spreadability and result in astoundingly velvety textures with slippery feelings.
Additionally, the product consists of many other multitasking chemicals. Polybutene gives thickening, lubricating, binding, viscosity regulating and epilating effects. Silica Dimethyl Silylate is used to bring anticaking, bulking, conditioning and particularly, suspending activities.
This silica ingredient is very famous for making the hydrating agents and long-lasting wear of makeup hold up. Plus, Glyceryl Behenate, a monoester of glycerin and behenic acid, provides conditioning, texture enhancing and emulsifying agents to leave soft, seamless feelings. Caprylyl glycol is a humectant and also, stabilizer, the ingredient is able to increase antimicrobial activities of preservatives.
There is Copernicia Cerifera (Carnauba) Wax, extracted from the tropical palm tree Copernicia Cerifera. It tends to thicken the oil part of lipstick, improve the product's flexibility and plasticity as well as prevent caking for stress-free applications. Furthermore, infused with avocado (Persea Gratissima) oil, olive (Olea Europaea) oil and Phytosterols, naturally occurring compounds in vegetable oils of peanut, safflower and sesame. These three botanical ingredients boast replenishing, soothing and moisturizing properties.
Mixed with Phenoxyethanol and Kaolin as preservatives. Kaolin is a naturally occurring porous soft clay mineral, mostly utilized as an absorbent to hide water and oil within itself away from bacteria, yeasts and molds. It helps the formula stay clean and hence, prolongs the product's self-preserving. Similarly, includes Tocopherol (vitamin E) as another preservative to stop the formula's deterioration due to sun exposure. This is also an antioxidant derived from vegetable oils to protect your delicate pout from the harsh perils of the environment.
Last but not least, the lipstick's pigments are made of both minerals (Barium Sulfate, Titanium Dioxide and Iron Oxides) and synthetic colorants with opacifying effects.
2. My Thoughts
Kitten Heels is a bright red with the hint of orange, it makes a bold, kick-ass look of pursed lips blowing a kiss. The lipstick indeed gives creamy consistency and a lightweight texture. It's effortlessly gliding onto my lips with intense one-swipe pigment. Its gently splendid color payoff, two dips can fill in my whole lips and achieve full, opaque coverage. The product promises to leave a matte finish, this seems quite there.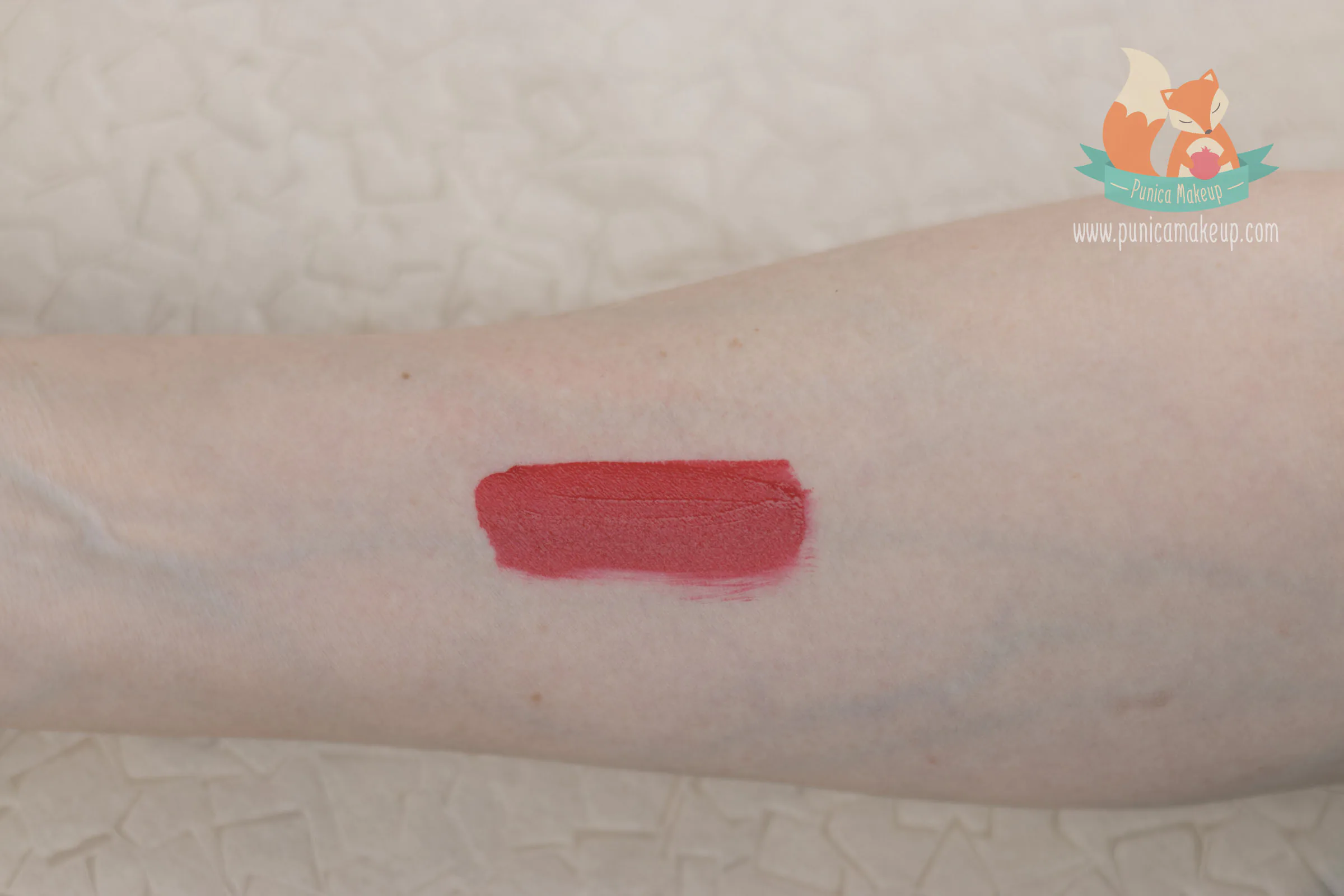 However, I'm enamored with how imperceptibly it reflects light upon. I guess this is because the included Mica can bring a bit of shimmer in the finish. Instead of going matte all the way, it tends to reduce the dull, caked-on look and emphasize dimensions of my lips.
Once the application is done, I find it very wet and tacky. Incredibly blendable and buildable, pressing lips does not cause uneven, patchy residues, rather quickly spreads the lipstick while coating. One problem I got with the product is that it's prone to smudge a lot so you might need to be super careful during applications. This can be tough for someone who is not lucky with liquid lipstick, I got stains on my teeth on the first day of using. Then, definitely let the lipstick dry before drinking and eating.
To be honest, I prefer using lip brush to lay the lipstick neatly into my pout and perfectly shape my lips up. It's difficult to get precise and trim applications with the applicator. Regarding those who have thin lips or usually get chapped, lip pencil is a really big help to outline your lips. It adds definition and thickness for plumper, lifted look, but also keeps the lipstick from migrating and feathering. As I mentioned earlier, the product is very smudging, this can be a culprit of bleed-out. So, I highly recommend using lip pencil along.
The lipstick does not totally dry down in order to become transfer-proof. After a few hours, it still transfers very vague traces. The lipstick takes pretty long, about 20 or even more, to set in place. Then, I blot excess product with a piece of tissue to make it dry faster and less smudging but still keep the pigment. Otherwise, the good news is the lipstick does not terribly sink into fine lines, my lips find really comfortable without blistering flakiness. This can be somehow a decent compromise.
The Liquid Suede Cream Lipstick is fairly long-wearing for 6 to 7 hours. Drinking will not strip it off, however, meals with oil and hot soup make it crumble off and shabby badly. The product gets a slightly strong smell of chemicals.
3. Packaging
Housed a kind of big tube compared to a lot of others I have tried before. The tube color shows accurately the lipstick shade. Otherwise, it's hard to see how much left inside. There is a sponge applicator attached to the black lid, it's slender, but not pointed. This makes me uneasy to correctly define my lips' shape.
4. Rating 7/10
I think the product is great, it did not painfully strip my lips off. Unfortunately, I find it's a bit stubborn to control. I'd give it 7 out of 10.
Hope the review is useful and informative enough about NYX Liquid Suede Cream Lipstick in Kitten Heels. If you get any ideas or questions, please speak to me. I'd love to hear you out. Thank you so much for joining me!