Honey and other bee products have always been buzzing the beauty realm for their rejuvenating and healing benefits. But we may not see all of them work the same in skincare products. I have rounded up my top 10 bee-sourced skincare brands and products after checking their formulas. Let's find out which one will suit you best.
1. The Honey Mud by May Lindstrom Skin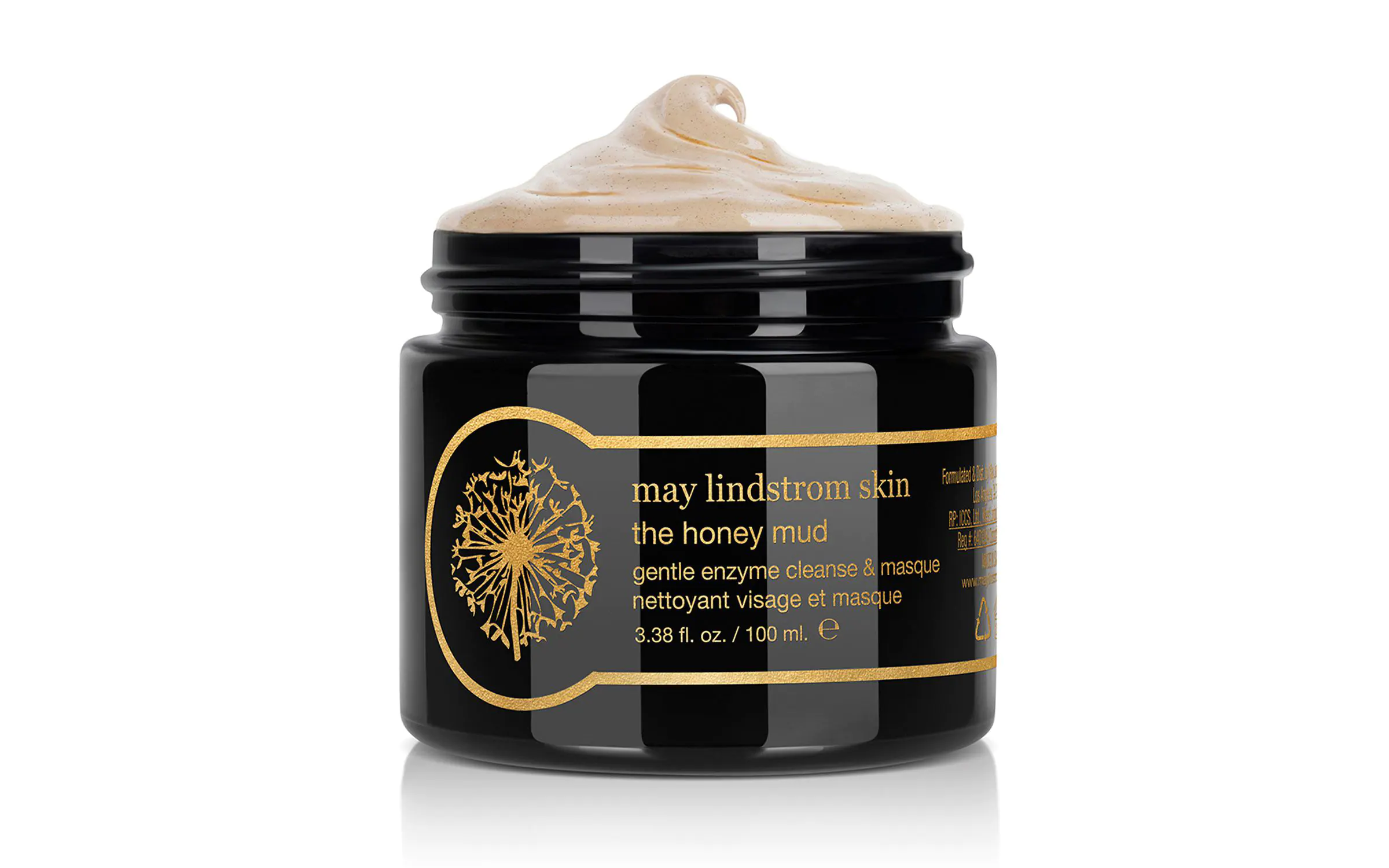 This yummy pudding-like mud is an amazing multitasker taking your skincare routine to a deeper level. Have the time of your life with a spa-like facial at home, cleansing and replenishing your skin in one act.
Formulated with kaolin, also known as white halloysite. The white clay functions as a powerful cleansing agent to absorb impurities and toxins from the skin's surface and slough off the pile-up of dead skin cells. Plus, the second active ingredient is raw honey mixed with bee pollen and propolis.
Its high content of biologically active compounds helps restore damaged skin cells, plump up skin texture and diminish the appearance of skin ageing like dark spots, wrinkles and fine lines. Furthermore, the yeast naturally occurring in raw honey helps nurture the skin microbiome that strengthens the protective barrier and makes skin stay resilient.
Apart from kaolin and raw honey, this luxurious mask comprises plenty of certified-organic botanical extracts and oils rich in soothing, moisturizing and anti-ageing properties to ultimately nourish your skin. Not to mention, the infusion of cacao extract makes it chocolaty and very uplifting.
2. Bee Venom Pure Perfection Moisturizer by Abeeco
Give your skin a boost with Bee Venom Pure Perfection moisturizer. Bee venom, or apitoxin, is brimming with antimicrobial, anti-inflammatory and antioxidant properties thanks to the presence of peptides, phenolic acids and flavonoids. It has been shown to mitigate acne vulgaris, stimulate fibroblast proliferation and reverse sun damage.
Abeeco has been famed for its all-natural skincare products locally made in New Zealand. The brand uses ethically sourced bee venom VENZ™ of the highest possible quality and guarantees to nullify the allergic impact of Phospholipase A2 found in bee venom through its infusion into manuka honey.
Bee venom and manuka honey work in harmony to put your best face forward.
On top of that, the formula includes Natural8™, a proprietary blend of skin-loving botanicals such as Seafill, White Water Lily, Red Seaweed, Jojoba oil, Meadowfoam oil, Echium oil and Camellia seed oil. These ingredients function as skin tightening, lifting and wrinkle-reducing agents to alleviate skin sagging and other signs of accelerated ageing.
3. Manuka Doctor Skincare with Manuka Honey and Purified Bee Venom
Harness the purest, finest natural ingredients from the hive and scientifically develop several skincare formulas from exfoliating cleansers to facial oils.
Manuka Doctor has created a skincare range that brilliantly incorporates Purified Bee Venom PBV™ with the powerful regenerative activity of Manuka Honey to improve every kind of skin concern.
ApiClear is the bee venom-containing product line of Manuka Doctor for the treatment of acne vulgaris. Bee venom is characterized by its bacteriostatic and bactericidal effects thanks to the presence of melittin. Purified bee venom has been shown in laboratory studies to inhibit the generation of C.acnes when topically applied.
Mixed with Manuka Honey to balance the skin's acid mantle and encourage the skin to repair itself.
As Manuka Doctor's ambassador, Kourtney Kardashian has been upfront about how its products do wonders for her youthful-looking complexion. The Manuka Doctor facial oils are her faves.
4. New Zealand Bee Venom Serum with 80+ Manuka Honey by Wild Ferns
If you are looking for natural skincare brands, don't forget to put Wild Ferns on your list. Get the most out of it with its nutrient-packed New Zealand Bee Venom serum.
The product tends to impart high concentrations of New Zealand Bee Venom VENZ™ and New Zealand Manuka Honey 80+ with a thin, yet rich consistency that is able to penetrate the deeper layers of the skin and tackle the roots of premature ageing.
This game-changing duo is loaded with antimicrobial, anti-inflammatory and antioxidative properties to re-energize the protective barrier, reduce the photo-damaging effects of UV radiation and promote the building blocks of the skin.
Bee Venom VENZ™ is extracted through patented collection and preservation technology in order to achieve its high standard and safety for topical uses.
Moreover, the formula consists of plant-based ingredients such as Witch Hazel Extract, Cucumber Extract and Ginger Root extract as calming, hydrating and anti-ageing agents.
5. I'm Honey Nourishing Mask Sheet by TonyMoly
Let's get back to the basics with a sheet mask. It's nothing other than quick and convenient, yet effective for perking up your lacklustre skin while dashing here and there.
Formulated with honey extract and propolis extract, both of which work as natural humectants with soothing and anti-ageing properties. They help recharge the outermost layer of the skin and decrease the appearance of skin fatigue caused by exposure to environmental aggressors.
Besides, the formula contains glycerin, sodium hyaluronate and hydrolyzed collagen. These water-binding agents help provide a burst of hydration and increase skin's suppleness for healthy, dewy-looking skin.
This on-the-go mask belongs to the I'm Real Sheet Mask Collection by Tonymoly brimming with an array of ingredients to cater to different skin issues. Highly recommended for teens. It's simple and gentle in the absence of harsh chemicals. Make sure to have it at your spa slumber party, girls!
6. Manuka Honey Mask by Savor Beauty
For big fans who still can't get enough of manuka honey, this mask is absolutely a must-have. First and foremost, the formula contains a huge amount of manuka honey as an active ingredient, responsible for its detoxifying activity.
What makes manuka honey superior to all others? I bet most of us know the answer. It possesses powerful antimicrobial activity due to the high content of methylglyoxal, which is converted from dihydroxyacetone, exceptionally present in the nectar of manuka flowers. I know, it sounds a bit complicated.
The manuka honey mask helps get rid of impurities and pollutants from the day that causes congestion and oxidative stress to your skin. As such, it leaves a clear, healthy-looking complexion.
In addition, it's combined with papaya extract, apricot fruit extract, rice bran and some plant-derived oils. Given their exfoliating enzymes as well as soothing, hydrating and anti-ageing compounds, the mask tends to gently resurface your skin, amp up moisture retention and brighten skin tone.
Add this manuka honey mask to your skincare routine to reverse dull skin for a more radiant complexion.
7. Skincare by Honey Girl Organics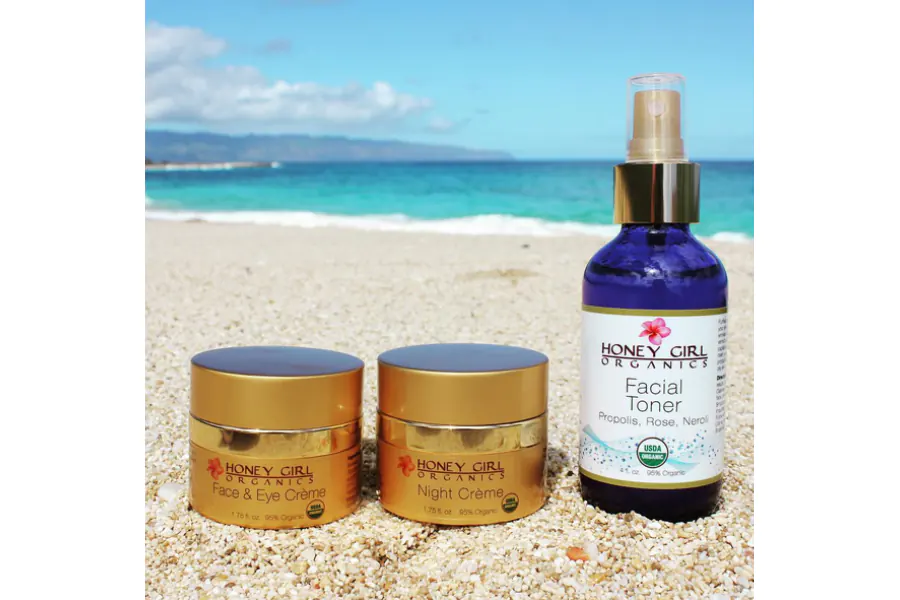 Hawaii is home to biological diversity, and Honey Girl Organics has been making good use of this bounty. The brand has been lauded for its full range of bee-sourced skincare products inspired by the beautiful nature of the tropical paradise.
From cleansers and spot treatments to face creams and body scrubs, literally, Honey Girl Organics is going to pamper you from head to toe. Bee products including honey, royal jelly, beeswax, bee pollen and propolis, and various plant extracts and oils work in harmony to deeply nourish the skin.
Honey Girl Organics believes that skin is the most delicate organ-absorbing substance that we slather on our bodies. Therefore, its priority is to deliver concentrated, non-irritating formulations that are made of certified-organic natural ingredients of the best quality.
Honey Girl Organics ensures that all of the ingredients are gently harvested without causing harm to the bees.
On top of that, each product is elaborately handcrafted using low-heat conditions in order to preserve the integrity of naturally occurring nutrients in the ingredients. Because of the brand's freedom from harsh chemicals and toxins, its products are suitable for everyone, even teenagers, except for those who are allergic to bees.
8. Propolis+ Ultra Radiance Cream by Therapi Honey Skincare
From bees to beauty, we can't forget to gush over Honey Skincare by Therapi. The British-born organic skincare line is rooted in the healing power of honey and propolis.
As a resinous concoction collected by honeybees from parts of plants, buds and exudates, propolis is super rich in phytochemicals like phenolic acids and flavonoids. The topical application of propolis extract has been clinically proven to provide antioxidant protection against the photodamaging effects of UV rays.
Propolis+Ultra Radiance Cream is the best-kept item of Therapi. Formulated with a combination of raw honey and propolis extract to focus on revitalizing the out-of-whack protective barrier and diminishing signs of premature ageing like wrinkles, fine lines and dark spots.
Plus, the formulation consists of nutrient-dense botanical extracts and oils such as shea butter, jojoba oil, rosehip oil and sunflower seed oil. These ingredients help moisturize, balance and tone your skin, but also potentiate the effectiveness of the active ingredients and enhance the skin absorption of the product.
Besides, Therapi has many honey-based skincare products infused with the trinity of rose otto, orange blossom and lemon myrtle. The majority of Therapi's natural ingredients are certified organic. And, its product development is based on environmental sustainability.
9. Queen Bee Holistic Age Defense Serum and Cream by Apivita
Empowered by Greek nature biodiversity, Apivita has been creating arrays of functional beauty products made of plenty of natural ingredients. And, the bees lie at the heart of Apivita. Honey, propolis and royal jelly are the main ingredients holding the fountain of youth. Apivita's bee superfoods are ethically sourced from beehives across Greece.
Queen Bee Holistic Age Defense is its royal jelly-based skincare line including serum, eye cream, night cream and day creams (light texture and rich texture). Royal jelly has a high content of lipids, especially 10-hydroxy-trans-2-decenoic acid (10-HDA). It has been shown in laboratory studies to work as a collagen-stimulating and moisturizing agent in cosmetics.
In the Queen Bee line, Apivita uses Greek royal jelly encapsulated in liposomes. Bee milk tends to encourage the skin's rejuvenation and fill in wrinkles.
Because its large molecule is difficult for skin absorption, the structure of lysosomes helps transport the active ingredient deep into the skin. Additionally, incorporated with hyaluronic acid as well as numerous organic botanicals and essential oils to improve skin hydration, soothe irritation, and restore the pH level.
Every formulation of the Queen Bee line comprises about 95% of natural ingredients in the absence of harmful chemicals. Above all, Apivita's philosophy is ecologically minded and supports the protection of the bees.
10. Royal Jelly Serum by Beealive
Last but not least, for those who love simple, yet effective products, Royal Jelly Serum by Beealive deserves a place in your skincare vanity. This anti-ageing treatment gives a lightweight consistency that is fast absorbed into the skin.
Enriched with fresh, non-freeze dried royal jelly. As a collagen stimulator, it helps improve the skin's thickness and moisture reservoir and hence, dampens the formation of wrinkles and fine lines.
The formula also consists of hyaluronic acid as a natural humectant, which plays an important part in skin regeneration. Besides, infused with argan oil and jojoba oil, both of which help rebalance the natural moisturizing factor within the upper layer of the skin and restore your healthy glow.
The majority of its plant-derived ingredients are certified organic. And, it's free of synthetic fragrances and colourants.
I hope that you enjoy the post and find it useful. It took me a while to finish the list since I want the best bee-sourced skincare products that really work wonders for our beloved skin. Please let me know your thoughts. Thank you so much for spending your precious time with me! Stay strong and healthy, beautiful!
Discontinued or Delisted
Honey Black Sugar Scrub by Mizon
The scrub combines astounding anti-inflammation of honey and vigorous exfoliation of black sugar (35%). Black sugar's tiny particles gently polish the skin surface by stripping off all dull, dead cells and getting rid of impurities stubborn in pores.
This tends to decongest skin, avoid future breakouts, brighten skin tone and leave a naturally glowy complexion with a clear, silky texture.
The honey amazingly prevents bacterial breeding whilst deeply replenishing skin with minerals and vitamins to encourage cellular regeneration. The product also consists of glycerin, grape seed oils, olive oil, sunflower oil, cacao extract, lemon and green tree extract, mango seed butter and vitamin E. All of them keep skin moisturized, soothe irritated, fatigued skin and strengthen anti-ageing protective barrier for a youthful appearance.
Rose & Manuka Honey Nourishing Night Cream by Willow Organic Beauty
The cream is extraordinarily designed to penetrate deeply into skin layers and resolve roots of problems with Rose Oil & Manuka Honey. Both ingredients are inclined to remarkably hydrate skin and lock in moisture throughout the night for a plump, firmer look the following morning.
Astoundingly, manuka honey's enormous nutrients bring healing, age-defying and anti-inflammatory properties much more superior to normal honey. Infused with Rose Oil, which is genuinely magnificent for its antimicrobial and antibacterial to prevent future acne; in addition, anti-ageing effects to combat oxidative stress.
The cream fastens skin's self-recoverability, motivates cell turnover and effectively dampens the appearance of wrinkles and fine lines. Plus, argan oil is also included with notably soothing and healing actions over skin infections, rash and swelling.
All in One Face Cream by Beenigma
The cream is fabulously incredible with all impeccable, nutrient-rich ingredients that are absolutely non-oxidized, which you can't be skeptical about. When getting the cream on your fingers, its texture is genuinely soft and seamless. Enriched with three predominant ingredients, including manuka honey, shea butter and honey bee venom. We all know the admirable benefits of manuka honey earlier from revitalizing and antiviral activities to stimulating cell renewal.
Then, the product is able to calm down your breakouts, even though it's a bit thick and heavy; but also, reverse sun damage for a lively, bright complexion. Simultaneously, enhance the barrier function by sufficiently retaining emollient on the outermost layers of skin. Included shea butter is inclined to remarkably moisturize skin and hence, defeat scaly, flaky conditions.
There is no way to worry your skin gotta suffer from harsh, dreadfully low temperatures with freaking dryness in the winter. Likewise, you can find the yummy smell of almonds in this cream because of almond oil.
The most flattering is its purified bee venom from New Zealand at a very high concentration of 100 ppm (parts per million) rather than any products that you can find. It's obtained professionally without being invasive and offensive to the bees. This substantially boosts skin regeneration to smooth out all ageing spots, such as wrinkles, fine lines and roughness.
I'd say the product literally delivers ultimate care to the skin for no more dullness, sagginess and flaccidity. So, prepare yourself for mesmerizingly smooth, firm and elastic skin. Your skin will love you for this, except for those who have a particular allergy to bees.
The Bee Venom Masks and Creams by Heaven Skincare
Heaven Skincare is one of the high-end beauty brands closely related to honey and bee venom. Founded and Initiated by Deborah Mitchell, a 51-year-old beauty therapist.
Additionally, she invented the patented Abeetoxin typically taken into the company's Bee Venom Masks. It's an advanced formulation of honey, bee venom and botulism, also called botulinum, "a natural form of toxin harvested from beehives."
This is a little trick to the skin. When applying the cream onto the surface, its Abeetoxin deceives skin as if it has been mildly stung. Then, that arouses blood circulation toward the skin and hence, fastens its regeneration of collagen and elastin.
Moreover, the effect instantly diminishes the skin's sagginess and flaccidity as a result of the extrinsically ageing process. Many celebrities have come to the Heaven Skincare and experienced her bee venom masks, such as Victoria Beckham, Nicole Kidman and Kate Hudson.
The brand has been released in three tiers, including Silver, Black and Gold Bee Venom Mask. They similarly contain organic extracts, such as rose, lavender, marshmallow, shea butter with vitamin E, beta-carotene, bee venom, manuka honey and patented Abeetoxin. Those ingredients deliver vigorous replenishment to make skin tighter, firmer and plumper. However, the difference is the intensity of Abeetoxin occupied in each tier.
The Silver Bee Venom Mask has the smallest amount of Abeetoxin, which is thinner and less heavy than the rest; so it's suitable for everyday application. The Black Bee Venom Mask is preferable for thicker skins, like men. Lastly, the Gold Bee Venom Mask is prohibitively expensive because of its rare, precious venom from the queen bee.
Dew Facial Wash by AEOS
AEOS, Active Energised Organic Skincare, is cruelty-free and nearly 100% vegan. The company focuses on collecting organic, biodynamic ingredients from its biodynamic farming method. AEOS cultivates and grows its own pure, nutrient-rich herbs and botanicals on its own 500 acres Shire Farm.
It adopts biodynamic agriculture, which is holistic, ethical and ecological toward farming to build an ideal environment for plant's natural, potent development. Furthermore, without synthetic fertilizers or pesticides, it encourages the plant's self-sustainability.
The AEOS Dew Facial Wash is a beauty award winner in 2014. The cleanser is super gentle and soothing, enriched by honey with lemon, lemongrass, neroli, orange and spelled oils. It doesn't have artificial dye; otherwise, its blue colour is derived from gardenias. The cleanser gets rid of all unwanted residuals, even makeup; whilst hydrating skin to give a lively, glowy look.