Lately, I have been so impressed by an adorable book, titled "The Ultimate Natural Beauty Bible" written by Sarah Stacey and Josephine Fairly. I gotta say I'm one of the huge fans of this beauty series. It's subject to be a brilliant, creative collection of what women need to know for a naturally magnificent look.
Moreover, one of its most flattering is several tests and trials of 2,400 cosmetic products from different brands based on more than 2,000 women. I got a name that really inspires me here, L'Occitane en Provence. The brand's 18 products have honourably nail it by giving bliss in heaven with incredibly enjoyable senses, but also real delivered results. This makes me so inquisitive to dip into the L'Occitane fabulous feedback and "Shea Butter" really something dazzling in my mind.
In this post, I'd love to ask you all to take a little break during fatigue days and check out 10 amazing L'Occitane Shea Butter products. They are all to bring about ultimate care for your gorgeousness.
So, Why is Shea Butter? There is a passionate adventure behind it, "The gold of Burkina Faso's Women." Shea Butter has been well-known to amaze us by its' excellent moisturizing and nourishing properties. It's grown and reaped from Karite trees in Burkina Faso in which women apply raw Shea Butter every day to take care of their skin and hair. These women have handed out this beauty secret, transferred from mothers to daughters for many years. They gather for drying, washing, selecting, grinding, churning, heating, filtering and more to create Shea Butter. That has become such an essential part of their lives.
L'Occitane has directly worked with women of Burkina Faso since the '80s and runs the production of Shea Butter as more expansive (over 500 tons per year). Then, turned it into a universal natural ingredient for nourishment and protection. More importantly, the company has helped to support employment, education and food to people in Burkina Faso. And, developed a sustainable, fair trade supply chain of Shea Butter.
1. L'Occitane – Shea Butter Hand Cream

This product is one of the bestsellers of the brand, "sold out every 3 seconds beyond the world." It's highly creamy balm is rich in 20% natural Shea Butter blended with honey, coconut oil and almond extracts. It's a winner over the approval for powerful healing and instant moisturizing properties outside any lingering greasy and heavy feelings.
The hand lotion is highly suggestive and a lifesaver for people who love working with their hands. Day by day, different damage and injuries can silently creep into your hands and leave cuts, scrapes, cracks, dry patches or roughness.
The cream has been proven to quickly sink into the skin and effectively tackle these problems. Also, result in soothing, refreshing and softening sensations.
For some reason, I have heard lots of praise about the product that somehow relieves the mild eczema condition in the hands and even, on the body. Then, I recommend this to my friend struggling with itchiness, redness and scaly areas. Sounds crazy, but it's really working!
Regard to packaging, the product has a convenient design so it's a handful and tidy to carry around inside your bag. Besides, The price is affordable and worth it for the product's value and satisfaction that we can receive.
2. L'Occitane – Shea Butter Extra-Gentle Milk Soap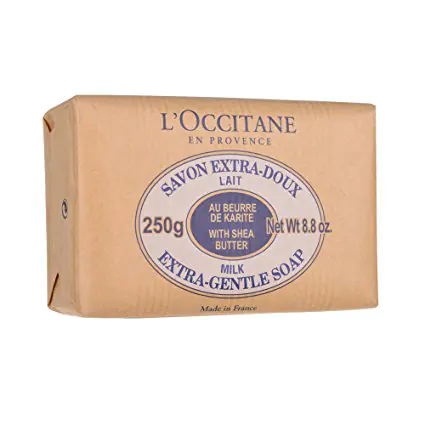 The soap is made of absolute vegetable oil base and enriched with nourishing Shea Butter. It tends to bring about a mild, gentle cleanse; but not to suck out your skin emollient. This product is suitable for all skin types, preferably dry and sensitive. Regardless of gender or age, there is no worry about freely taking it in relaxing baths.
This is really a great product that provides a nice therapy upon your skin body after harsh days, burning summer to chilly winter. It seems to be a perfect rescuer for your skin away from mighty attacks by environmental changes.
Alongside the cleansing effect, It definitely hydrates your skin texture and provides elastic, silky-looking skin in the absence of irritation, allergic reaction or oily traces. Then, extreme dehydration and flakiness will be no longer your stubborn nuisance.
Can't forget to mention its' scent. The soap's hydrating effect is long-lasting along with its' sweet, calming fragrance (Lavender, Verbena or Milk, it's up to you to pick). That can make you fall in love with your own smell. Furthermore, I love its packaging, looks so elegant and vintage.
3. L'Occitane – Shea Butter Ultra Rich Body Cream

Speaking of L'Occitane Shea Butter babies, we can't miss any chances to drop by this product. The body cream was one of the highest scored products in "The Ultimate Natural Beauty Bible." The book's testers certainly show their gratification, whilst enjoying the product's astonishing organic ingredients.
It extraordinarily contains a high concentration of Shea Butter (25%). And, enriched with other organic extracts from marshmallow, linseed, honey, apricot oil and sweet almond to boost the moisturizing effect.
As mentioned in its name, "ultra-rich", the product appears to be a thick, white creamy paste. It's really something that horribly dry skin yearns for, especially in cooling, freezing seasons.
Smooth it all over your body and let your whole organ indulge in an intensive replenishment. The cream takes over the championship to smash skin dehydration and roughness. Deliver a seamless, softening sense and lock skin in moisture.
I brought the cream home two weeks ago. At first glance, I was quite skeptical about its quality because I got a little bit uncomfortably greasy. However, the cream spreads evenly afterwards and my skin absorbs quickly as well as stays moisturized through the day. Additionally, its' nutrient-rich formula is able to beautifully reverse sun damage by pushing skin cell renewal and diminishing aging spots.
The high-quality cream focuses on revitalize skin by filling in texture by superior hydrating ingredients. Delicate skin is also gonna adore it. Surprisingly, I see some people who had suffered eczema or psoriasis gave positive feedback how it has improved their conditions. This is probably a potential benefit for our needs.
4. L'Occitane – Shea Butter Foot Cream

Similar to the L'Occitane Shea Butter hand cream, this time is about soaking your tired, damaged foot in high-quality elements. L'Occitane Shea Butter Foot Cream helps to revive your foot by lavender essential oil and arnica as well as 15% of Shea Butter. Its main ingredients tend to help your foot not only relieve pain and diminish inflammation; but also promptly refill its own natural emollient.
Many of us might have struggled too much about our feet that looks unpleasant and painful. We need to find out what are the possible reasons for this trouble. That can be mostly due to the sensitive skin on the feet's bottom and heels tolerating severe dryness. It causes splits open and hurtful cracks, "heel fissures." Dr. Alan.K.Mauser, a podiatrist in Louisville, KY clarified that heel fissures and cracks occur when skin loses its moisture content, dries out and cracks.
Of course, we don't want our foot to bear this savage life. The lotion functions to enable your foot to quench its thirst with a cooling sensation. And hence, get back their soft, smooth texture. Besides' it's kinda a thick, creamy paste, has a light, flowery scent. It might cause a little bit slippery inconvenience to walk on it so I suggest using it before bedtime. In addition, the product comes into a small, metal tube and looks very portable.
5. L'Occitane – Pure Shea Butter

L'Occitane en Provence has produced a series of Shea Butter-containing products to address our different demands. L'Occitane Pure Shea Butter reaches 100% natural origin, certified organic Shea Butter by Ecocert Greenlife. Also, enriched with vitamin E for an age-defying properties.
This product does its' job as a multitasking cream to knock down dehydration, even the driest condition. You can apply it anywhere on your body, like face, lips, elbows, cuticles, feet and even, hair.
If you're a big follower of organic, chemical-free skincare, this is what your skin can confidently expect. A small amount is able to make your body perk up for the entire day. The cream works as a moisturising booster to flush out flaky feelings, dry patches, stretch marks and cracks. Pregnant women and babies can also find it pleasurable when wearing the lotion onto their skin.
Moreover, it can be a dreamy cream to make your day without a doubt! Hydrate cracked foot, nurture cuticles, use as lip balm, soothe shaved areas, be a daily skin protector, cure sunburn, defrizz your hair. However, don't apply it too much to avoid annoying, oily touches upon your skin. And, be aware of slathering the cream beneath your makeup since it may cause your foundation and powder to go wrong.
You can feel safe about its' smell. This sheer Shea Butter absolutely appears with no obnoxious odors, nearly fragrance-free.
6. L'Occitane – Shea Butter Ultra Rich Body Lotion

The previous product I did mention somewhere in the first place (L'Occitane – Shea Butter Ultra Rich Body Cream) and this one are kinda alike. Yes, it is! These two products may come up to be twins I guess.
So, what are the differences? The answer is there is only 15% of Shea Butter is occupied in the product. That is much lower than its' sister or brother or whatever. Besides, the rest of the elements (honey and apricot oil) are still the same. Then, the product is supposed to be less thick and have lower moisture content than the cream version.
Apply all over your skin body to nourish, hydrate and protect against external aggression. That's gonna leave a soft, supple-looking skin. The product can be an offer to dry skin type. Furthermore, its' formula is prone to ecological concerns and all-natural so the lotion has been proven by many testers to be nice toward fragile skin.
It has a good design to bring about a mild, comfortable and long-lasting moisture to your skin. Without oily, sticky belonging, the lotion is something that you can feel free to put on skin texture everyday and also, during vacations or travelling. You don't need to be bothered about the lingering, weird odor on your body. The lotion comes along with calming fragrance by subtle essences of jasmine and ylang-ylang. And, shows off in a non-breakable squeeze bottle.
7. L'Occitane – Shea Butter Liquid Soap

The cleanser works pretty well for washing out impurities as well as softening your skin. The product is made of powerful Shea Butter and soothing aloe vera extracts. Also, emphasize detergent-free so it's surely desirable for all skip types (inclusive dehydrated, sensitive and damaged).
All of the special things about this soap are its lovable scents and incredible results delivered on your skin texture. It promises not to drain out your hands or leave any stretch marks, tensions and roughness.
This means to be definitely gentle and keep your hands moisturized. Perfectly smoothen and soften your skin with a relaxing sensation.
There are two options to pick, Lavender and Verbena. They are really enchanting and delightful to accompany us all day. Likewise, I think I'm fond of its packaging. The product comes into a superior-looking dispenser.
8. L'Occitane – Shea Ultra Rich Comforting Face Cream

I used to buy this face cream for my mom on Mother's Day two years ago. It worked really well to deliver an adorable texture and my mom couldn't stop getting back to it.
The cream consists of a high concentration of Shea Butter (25%), Vitamin E, Omega 6 and Karitane. All of that tends to meet skin's essential moisturizing requests. Its rich, creamy base is really preferable by dry to very dry skin and perhaps, the sensitive.
I'm not sure that it works for delicate skin because my sensitive, acne-prone skin got breakouts and excessive sebum when trying it on after 2 weeks. Then, I'll highly recommend this to girls who have normal, combination, mature and particularly, very dry skins for sure. But, I don't mean that it's a no-go for sensitive skin because I saw lots of people who have delicate skin really felt how effectively it improves their complexion.
To be fair, I think the product really deserves we give a chance to drop by. The cream can quickly melt into your skin texture, spread thoroughly and penetrate deeply into skin cells with its' super hydrating property. Result in supple, elastic and smooth skin.
Moreover, the cream can perfectly retouch your natural radiance so it's a must-try product to obtain glowy, dewy-looking skin. This product is really ideal to recharge your skin's luminosity to combat with freezing, dry winter. Welcome back sunshine!
Speaking of its' packaging, the product looks fancy in a little glass jar with a metal lid.
9. L'Occitane – Shea Butter Extra-Gentle Lotion for Hands & Body

L'Occitane has designed a variety of Shea Butter product lines for body by regulating the amount of Shea Butter and some ingredients. This idea is to address different problems and concerns of our skin.
The extra-gentle lotion this time contains only 5% of Shea Butter, much lower than body cream and lotion earlier. And, honey extract and oat milk to mitigate skin damage and literally, show off silky skin texture.
So, the lotion is gonna be much lighter and more likely to be watery. Then, it tends to soak beautifully into skin. That provides mild, gentle moisture to skin as committed in its name and won't cause an oily feeling. Furthermore, it does have wonderful healing properties to beat up flakiness, dry patches, scratches and after-effects of eczema. I gotta say normal, combination, dry and sensitive can go for it.
Many testers have complimented a lot about its' nice, floral scent. Don't give a waste to fret about its smell that's gonna sit on top of your body. Likewise, the lotion's packaging isn't much different from the ultra-rich version, except for its' shorter size.
10. L'Occitane – Shea Light Comforting Face Cream

Finally, we can reach the bottom of our fantastic list. this comforting cream may remind us back to the ultra-rich comforting cream. So, "light" vs "ultra-rich", huh? The light here is to emphasize L'Occitane has cut down the amount of Shea Butter to merely 5%. And other original ingredients are still there (Karitane, omega 6 and vitamin E).
I think this change is really incredible to let the product be more inclined to get along with sensitive and combination skins. I may say It's a type of lightweight moisturizer for our "high-tempered" days, like summer.
Similar to the former version, the cream still guarantees to dedicate flawless, radiant-looking skin. Lower likelihoods to cope with greasiness and clogged pores. All is about pursuing sufficient moisture and refreshing sense for your skin. The cream dedicates a seamless, smooth surface as well as "rain over the dry spell."
Besides, it's really gorgeous to apply the cream under your makeup that keeps your skin from flakiness and harmful aggression as your protecting shield. Regard to packaging, it still looks luxurious as usual, with a bit change in label with lighter blue to mention the reduction of Shea Butter amount.
Hope you like this post and find it useful to pick suitable products for yourself. If you have any questions, suggestions or ideas, please be free to let me know. I'd love to hear you out. Thank you so much for your care.