Established in 1994, Laneige has always believed water is the key to an ageless and radiant looking skin. The company's water science is about exploring and developing a binding interaction between water and skin. It makes up for the enormous part of our body and nourishes lives of countless cells, organs and connective tissues. Dehydration is a stubborn culprit for most of problems, dryness, flakiness, discoloration, scaling, sensitivity, irritation, redness and premature signs.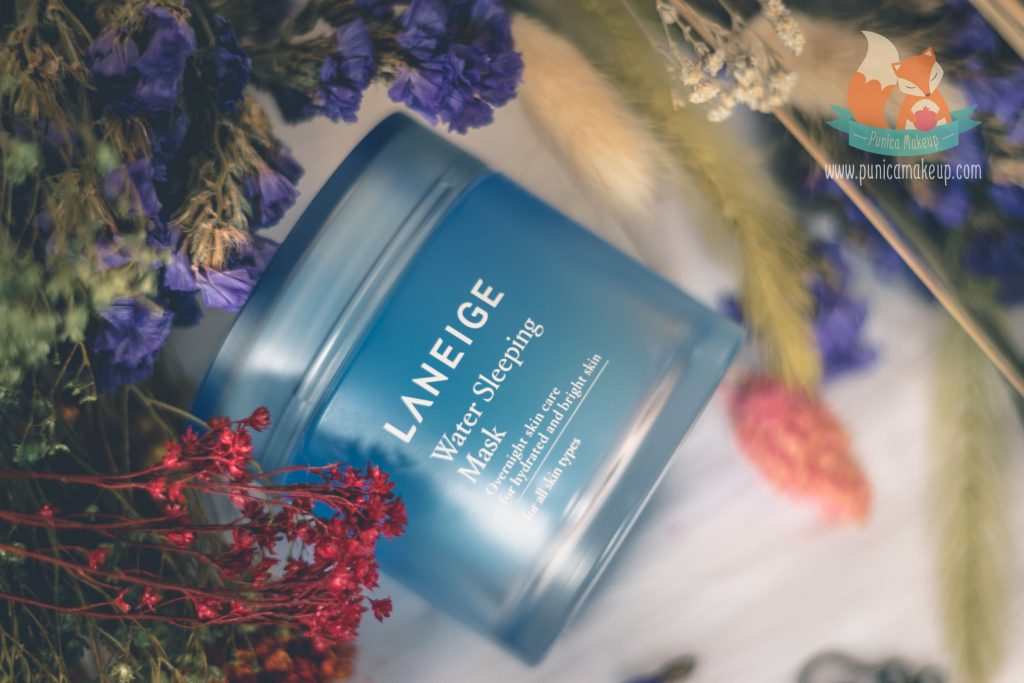 The outermost layer, called stratum corneum, keeps water as skin barrier or emollient, which provides smooth, energetic and youthful look. External or environmental aggressions are public enemies that notoriously suck out skin water and cause unwanted damage. Laneige perseveres and pursues nurturing and maintaining the largest organ 's vitality and source of life. I'm here to humbly come up one of its' most well-known products that amazingly brings core value and miracle for a healthy skin.
This post is gonna share a review of Laneige Water Sleeping Mask that I've used for nearly 2 months. Besides, I also posted a review for another brand product, Laneige Fresh Brightening Cleansing Oil, one of my favorites ever.
1. About The Product
The water sleeping mask belongs to Laneige sleeping care line that functions to give special replenishment to skin. Sufficiently moisturizes skin while you sleep. The product is made with the Sleep-tox™, Laneige unique technology that delivers purifying effect to rescue skin from fatigue and tension during daytime. Brings about relaxing and calming feelings for glowy looking skin the following morning. That wants to ensure skin will have a good night rest.
Furthermore, the mask includes the idea of the Moisture Wrap technology which concentrates on revitalizing skin water retention throughout the night. This is about beta-glucan moisturizing shield, consists of Hydro Ion Mineral Water, Hunza apricot-derived elements and evening primrose extract. These active ingredients tend to increase skin sustainability and absorbability as well as truly lock in moisture. Also, the apricot extract means to enhance age-defying and brightening properties to fight against free-radicals. Aging skins are inclined to stem from severe dehydration and then, wrestle with fine lines.
When we say about environmental aggressions to skin, it can mean lots of things. Destructive UV rays by sun exposure or weather and climate changes with unstable temperature and humidity can torture your skin. That reasonably influences the epidermis emollient, but also the sebum production of sebaceous glands. Consequences of skin tiredness is not merely a theoretical point of view; however, it actually occurs and causes a dramatic imbalance of skin water. Moreover, what happens inside your body also make matter to skin's sparkling fluid. A 2014 study of the U.S. National Library of Medicine reveals overcrowding mental pressures and distresses can result in transepidermal water loss. After all, inflammation, flakiness and wrinkles creep into skin.
Many dermatologists state that skin cells are prone to substantially regenerate faster and absorb nutrients better at night. Overnight, hydration boosting skincare speeds up skin recoverability and makes a much healthier look. The product has really mild, safe formula, which doesn't lead to any irritations to skin, even the most sensitive. Additionally, tested as non-comedogenic or non-acnegenic.
2. My experience
Early this year, my skin went through freaking flaky condition with dry patches, peeling skin, redness and itchiness. Although I had tried several moisturizers, yet it was no use. I were almost running out of money and eventually, decided to buy the Laneige Water Sleeping Mask. Hoped it could save me from the desperate situation. Gotta say this is genuinely incredible, "holy grail" to me. I'm so digging the mask right now! Have just gotten the second box, the old one reached to the bottom yesterday.
The product has gel base, which is not thick at all; extremely lightweight with a white hue. The gel looks adorably pure and glossy as well as visibly very hydrating. When applying all over my face, it's inclined to sleek seamlessly with amazingly cooling and soothing sensations. Moreover, the gel seems to melt down into skin texture without giving color so I don't find difficult to spread evenly.
It extraordinarily dazzled me for the first time of using. I immediately felt kinda itchy around the cheeks, where the most redness appeared. Thought my skin might be reacting badly to the product and considered to wash it off or not. I looked at myself in the mirror and guess what? Surprisingly, all of the redness disappeared the following morning.
Cracks and peeling skins were still clinging and troublesome. It took a month for the healing process to let the rashes and itchiness free from my skin. The mask is literally gentle and friendly toward skin. It remarkably quenches the pathetic thirst of my skin during 8 hours. Really hydrating and refreshing that you can't resist. Furthermore, I can guarantee it doesn't cause clogging pores or acnes. I applied the mask 2-3 times a week, even while having breakouts. Nothing happens to aggravate my blemishes, they are just naturally gone after shitty days.
Cleansing often leaves scaly, flaky skin with tightness. I love to enjoy the mask once removing all of impurities. That really makes my day. It solely diminishes majority of nasty dryness and irritations coming along. Wake up and wash off my face, skin feels really plump, soft and clean, no more dullness. I don't see any oily traces or sticky sense. Recently, my complexion improves noticeably. Cracks and peeling skins are no longer to annoy on my chin and forehead. Also, discoloration is gradually neutralized. My skin now looks livelier and healthier with revitalized radiance.
One problem with the product is it gives you sort of soaked and wet feelings to skin once applying. I don't like much, it's tacky on my pillow and hair during sleep. So, you may have to wait for up to an hour until it dries down and change your pillow frequently if you don't want bacteria breeding to your skin. Regard to its' smell, it does have kinda strong fragrance; but not overwhelming with a flowery scent, which becomes calmer later.
I think every skin types can be fond of the mask, including normal, combination, sensitive, oily skin and especially dry skins. If your skin isn't dry too much, you can apply the mask only 1-2 times a week. Some of us might get wrong oily skin doesn't need moisturizing much. Oily skin can suffer dehydration, which is the condition of loss of water. Otherwise, dryness is more likely to show skin dealing with lack of oil production.
The mask tends to deliver water content oil-free to the outermost layer and hence, strengthen the skin barrier. It doesn't add extra oil or arouses the overly reacted sebaceous glands. Instead, tries to rebalance water held in the epidermis.
3. Packaging
The gel comes into a plastic jar having a simple design with a whole blue color and faking glass. The packaging doesn't give much information about the product. At the first opening, it's sealed very tightly that you can find very protective and no pollutant or bacteria can get into.
The jar is not easily broken or damaged. The gel can't have any chances to spill out or smear onto the lid. They all look really sanitary. The packaging always comes along with a small measuring spoon that helps you get the gel without putting your fingers in and contaminating the rest.
[amazon box="B004KPYWM8″ description=" " template="widget-vertical"]
4. Rating 9/10
I'm addicted to the gel a lot and feel really grateful to it. My skin is now healing and better than before. The price is affordable and easy for us. You can check it out right below. Then, I think the product deserves 9 out of 10.
This is my very personal and truthful thoughts about the product. I hope you find it enjoyable and helpful. If you have any questions or ideas, please don't be hesitant to let me know. Thank you so much for your spending time with us!